Brunello Cucinelli expands footprint in London: to open new store in New Bond Street
The Italian luxury company is set to fortify its presence in the busy city of London, making this its third directly-operated-store of the brand in the British capital.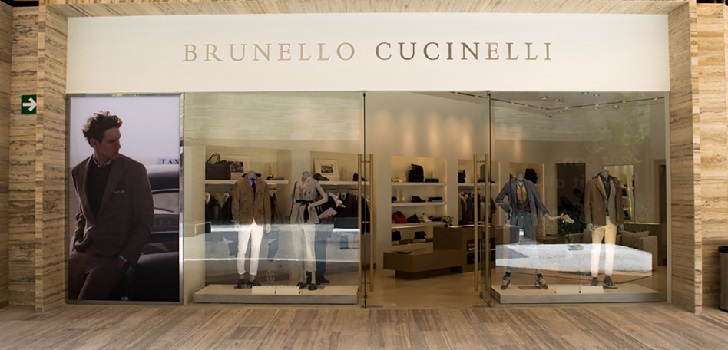 Brunello Cucinelli expands its footprint in London. The Italian luxury brand is set to open a new store in New Bond Street, making it the third store in the capital. The other two stores are in Sloane Street and Burlington Gardens, beside the Royal Academy of Arts. The company sells menswear, women's wear and accessories.
New Bond Street is renowned for accommodating the most renowned fashion names, specifically in luxury, set in the heart of the historic Mayfair. The location ranks third in Cushman & Wakefield's Top 20 most expensive shopping street in the World, with rents of 1,714 dollars per square meter per year to rent a spot on the Street, more expensive than Avenue des Champs-Élysées, that occupies the fourth position in the ranking.
According to the latest financial report of Brunello Cucinelli which corresponds to the fiscal year 2019 (closed on June 30, 2019), the company has 130 point of sales globally, 15 in Italy, 46 stores in Europe, 28 in North America, 22 in China, and 19 in the rest of the world.
The company recorded 291 million euros (324 million dollars) of net revenues in 2019
The company distributes internationally in over sixty countries, and as of June 2019 it had 102 directly operated stores, an increase from the previous year, which counted 97 stores. It also has 28 wholesale monobrand, these are stores that are operated under commercial distribution agreements, it recorded one less whole monobrand in comparison to 2018.
The company recorded 291 million euros (324 million dollars) of net revenues in 2019, an increase in comparison to the previous year where it recorded 269 million euros (300 million dollars). By region, Italy, the company's local market grew the least between 2018 to 2019, only 1.1% growth, to 483,000 million euros (538 million dollars), Europe as a whole grew by 9.7%, to 8.1 million euros (9 million dollars). The North American market also saw some growths, with a 9% increase, to 7.7 million euros (8.6 million dollars. China, the territory that grew the most, saw a 16% increase in revenue, to 3.9 million euros (4.3 million dollars). As for the rest of the world, the fashion retailer grew by 5.3%, to 1.6 million euros (1.8 million dollars).
The founder established his namesake brand in 1978, mastering the cashmere garments for women, the company has since grown and diversified. Brunello Cucinelli himself is currently the chief executive of his company.