Chow Tai Fook: the discreet growth of Chinese Tiffany
Chinese jewelry giant, Chow Tai Fook, established a hub in Boston following the acquisition of two American jewelry brands while it also continues to fatten its wallet in other markets.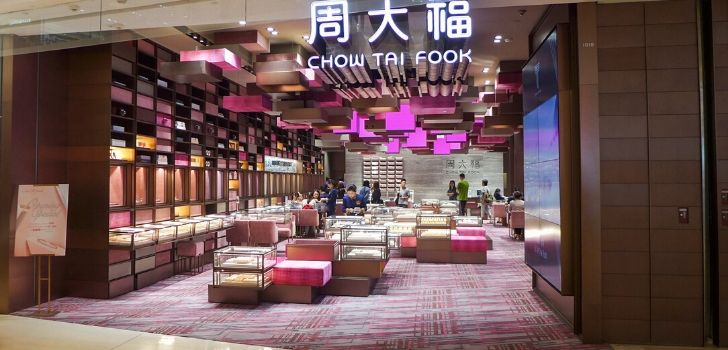 Chow Tai Fook, the Asian Tiffany, discretely paths its way across the world. The listed group conglomerate was founded in 1929 by the Chinese entrepreneur Chow Chi-Yuen and has since been rising progressively as to even becoming the leader in the jewelry sector in the whole of Asia.
The Chinese group opened a new hub in May last year in North America, Boston. Chow Tai Fook North America (CTFNA) is home to two other American jewelry brands such as Hearts on Fire, a diamond jewelry design and manufacturing company, and its sister company Mémoire, which Chow Tai Fook acquired in 2014.
The recent hub in Boston continues to act as a business hub and a single source wholesaler, which the company states in a report, "brings profit and growth to jewelry retailers across the North American market." The North American business delivers products, services, and know-how especially in regard to technological innovations that help drive profitability and boost jewelry retail business in the North American market.
Chinse jewelry retailer, Chow Tai Food established a hub in Boston in May 2019
According to its latest report of September, the company currently has 3,338 points of sale in Mainland China, 105 in Hong Kong and Macau, and 47 in other markets. In last year's report, countries referred to as other markets in which the holding company operates include the United States, in which it has 3 points of sales including the recent hub it established that same year, one store in Vietnam, two in Singapore, four in Malaysia, nine in Korea, twenty-two in Taiwan and many more.
The company continues the expansion of its presence in the market, last year it extended its points of sales with four new openings in South Korea, Philippines, and Singapore; two points of sales in duty-free shops in Mainland China. "We are proactive in expanding our retail network into neighboring countries which offer high future growth potential," said the company in its latest report.
For the fiscal year (ended March 31, 2019), the Chinese retailer recorded a revenue of 66.7 billion Hong Kong dollars (8.6 billion dollars) up 12.7% than the previous year, when it stood at 9.1 billion Hong Kong dollars (7.6 billion dollars). In the first six months of the fiscal year of 2020 (ended 30 September) the company recorded a revenue of 29.2 billion Hong Kong dollars (3.8 million dollars), down by 0.6% in comparison to the same period of the previous year.
Choi Tai Fook recorded a revenue of 66.7 billion dollars for the fiscal year of 2019
The company first launched its e-shop in 2011 and has been experiencing continuous growth ever since via different platforms. It has ventured to other platforms to boost its sales online, aside from selling on its own platform CTF has extended its sales to the grand platform of Tmall and JD.com. In its latest report representing its latest six months, the group saw an ecommerce increase of 9.7% year-on-year.
Chow Tai Fook has established a membership programmer that counts up to 3.5 million members, which recorded 24.1% of club members who repeated purchases in Mainland China, and 32.9% in Hong Kong.
The multiband company continues its multibrand strategy, which aims to offer different products by the hand of acquired brands and proprietary names, such as the case for the Monologue brand, launched in 2016; T Mark, another proprietary brand, launched in August 2016, SOINLOVE, launched in April 2017, which targets young millennials by offering affordable luxury jewelry.
Currently, the Chinese company is immersed in the development of a three-year strategic plan, called Smart + 2020, which focuses on five areas: products and brands, retail, product customization, corporate culture, and differentiation. In this context, the company has already launched an application that allows users to customize their jewelry. Within this three-year strategy is anchored its commitment to sustainable growth, which aims to put forward long term innovation business, "in people and in culture," as per a report.
In parallel, Chow Tai Fook has undertaken the modernization of its supply chain in order to gain speed and take advantage of the opportunities that may arise in the market throughout the year and, thus, continue to maintain its leadership position in the jewelry sector.