Gap reduces its sales by 1.1% and profit sinks by 65% in 2019
The American fashion retailer ended the year with a net result of 351 million dollars.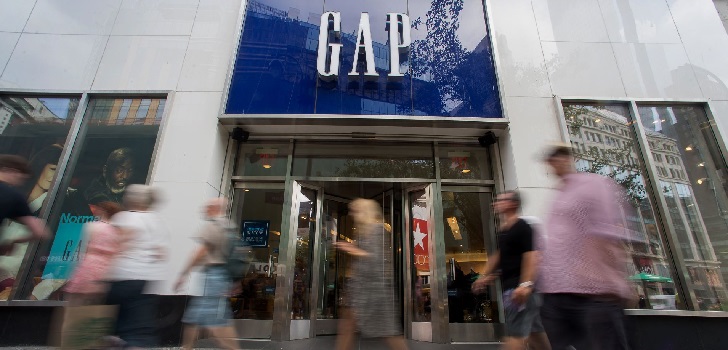 Gap leaves 2019 behind with disappointing numbers. The American group, the fourth-largest fashion retailer, ended the fiscal year 2019 with slipping sales and results. The period has been a turning point for the company, in which it has canceled the spin-off of Old Navy and has remodeled its management.
The company has recorded a net profit of 351 million dollars, 65% less than a year ago when it earned 1 billion dollars. The gross operating profit (Ebitda), meanwhile, stood at 528 million dollars, 60% less than a year ago.
The company explains that during the fourth quarter it registered an asset impairment charge of 296 million dollars related to stores. In addition, there were "significant costs" for the cancellation of the Old Navy spin-off, which amounted to 189 million dollars.
Gap sales have also shrunk in 2019. The group ended the year with a revenue of 16.4 million dollars, 1.1% less than in 2018.
In addition, the group's revenue has fallen in all the regions where it operates, except in the United States, where it has remained stable sales with an increase of just 0.4%. In Canada, the company registered a decrease of 3.3%, while in Europe and Asia the decline was 10.6% and 12%, respectively.
Gap canceled Old Navy spinoff earlier this year
Gap has been the only chain in the group that has cut its revenue during the period, with a decrease of 10%. Banana Republic has grown 3.3%, while Old Navy increased its sales by 1.8%.
Following Peck's departure, the group decided to reverse the Old Navy spin-off. Robert Fisher, son of the founders and interim CEO, attributed the decision to cancel it to the costs and complexity involved and the group's worst performance in recent quarters.
The group has expanded its presence with the opening of new stores during the period. At year-end, the company operated with a commercial network of 3,919 stores, compared to 3,666 stores a year ago.