Puma's profit skyrockets 40% after reaching record sales in 2019
The German sports brand exceeded for the first time in history the barrier of 5.5 billion euros (5.95 billion dollars) in revenue, while its earnings stood at 262.4 million euros (283.8 million dollars).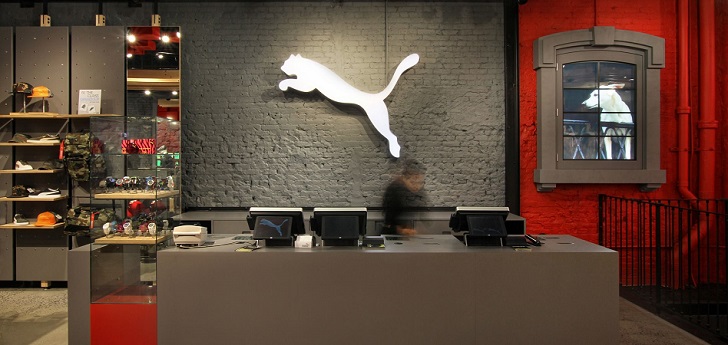 Puma ends 2019 with a new milestone in its history. The German sports equipment and fashion brand overcome the barrier of 5 billion euros (5.4 billion dollars) in revenue for the first time in history; its revenue reached 5.5 million euros (5.95 million dollars), 18.4% more than the previous year. Additionally, its net profit soared 40%, to 262.4 million euros (283.8 million dollars).
"2019 ended with a very strong fourth quarter for us with revenues being up 20.6% reported (18.3% currency-adjusted) and EBIT up 47%. All regions and all product divisions were up by double digits," said Bjørn Gulden, CEO of Puma. However, the German company also foresees a negative impact on its business due to the coronavirus epidemic in China and other Asian markets. "Given the current uncertainty around the virus, it is, of course, impossible to forecast its impact on the business. We will do everything we can in the short term to minimize the damage and remain very positive in the long term
," he added.
By territories, countries within Asia-Pacific were the main drivers of Puma's sales, with a 26% increase and revenue that reached 1.5 billion euros (1.7 billion dollars), mainly derived from China and India. In North America and Latin America, two markets that Puma still groups when calculating its income, the increase was 20.6%, nearing the shares of the business in Europe which recorded a revenue of 1.9 billion euros (2.1 billion dollars).
Puma exceed 5 billion euros in revenue in 2019 for the first time in history
The regions that contribute the most income, however, are still those in Europe, Africa and the Middle East (Emea), sales rose by 11.2%, to 2 billion euros (2.2 billion dollars), another a record for the company in these markets. Within these territories, the countries that saw significant growth in sales were Germany, Spain, Russia, and Turkey.
Regarding the product categories, the footwear division led Puma's sales in 2019, the division accounts for half for the company's revenue. The footwear division reported sales of 2.5 billion dollars (2.7 billion dollars), 15.6% more than the previous year. The apparel division, however, grew at a faster pace, 22.6% up, to 2.1 billion euros (2.27 billion dollars) , while accessory sales stood at 881 million euros (953 million dollars), up 13.5%.
Even so, the greatest advance came in sales obtained through its own channels, Puma's direct-to-consumer sales registered a year-on-year growth of 22%, to 1.4 billion euros (1.5 billion dollars), although it still amounts to only 25.4% of Puma's revenue, unlike brands such as Nike and Adidas, for which it already exceeds a third of sales.
Looking at Puma's outlook for 2020, the company has set itself the objective of strengthening the six strategic business lines that it established for the past year: the promotion of the brand, strengthening a more competitive product line and the supply of sporting goods for women, improving the chain distribution and expand its footprint in the most technical category of products in the United States through basketball and the NBA, which returned after twenty years of absence. Based on these forecasts, the company expects a currency-adjusted sales growth of 10% this year.