Goodbye Marc Jacobs, hello Jacquemus: the new fashion stars
Creating their personal brand and speaking to new generations in their own language are the keys to the success of new star designers such as Simon Porte and Virgil Abloh.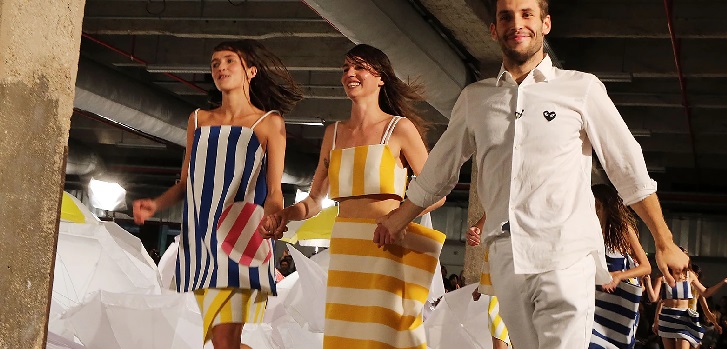 A new generation of designers claims its place in the international fashion scenario. With Marc Jacobs and Tom Ford dumped in their own brands and John Galliano with a low profile, new names like Simon Porte or Virgil Abloh have broken into the sector at the stroke of millennial language, a premium positioning and many followers on Instagram.
Like its predecessors, this new generation has made its personal brand its main marketing tool. But, if Marc Jacobs or Tom Ford were in their own advertising campaigns, Jacquemus or Demna Gvasalia connect with the new audience through new channels, such as social networks. As has also happened with top models, many of these creatives are celebrities themselves and share, as their customers do, their life and hobbies through Instagram.
Pepa Bueno, executive director of the fashion creators' association in Spain, says that what makes these designers different is that "they know how to speak to the public about the generation they are part of; they are physically exposed to millennials and generation Z, brand marketing has emerged at the same time as their own," explains Bueno.
"Creative directors work their personal brand from their social networks and other platforms, so that the public is able to recognize their work regardless of the firm they are on time," says Eva Sánchez, of the multi-brand luxury store Ekseption, in Madrid.
Another characteristic of these designers is that they have managed to position their brand without the support of capital from large conglomerates or investment funds. Neither Vetements, Jacquemus nor Ganni are under the umbrella of Kering or LVMH, as did star designers of previous generations.
In addition, its brands are positioned in a segment of the market that is closer to premium than luxury, and with an aesthetic closer to the new codes of athleisure and streewear.
However, today the throne is weaker than ever. "Before the designers were more durable, now they are very ephemeral and this is due to the changing mentality of the consumer," explains Luis Balaguer, buyer of the multi-brand luxury store Jean Pierre Bua, in Barcelona.
Virgil Abloh, the DJ who revolutionized Louis Vuitton
Creative director of Louis Vuitton since 2018 and chief executive officer of his own brand, Off-White, this American designer is one of the most followed designers in social networks by the Z generation, with more than four and a half million followers on his Instagram profile. Abloh is also a DJ and among his friends are celebrities like Kanye West and Beyonce.
In 2013, the creative founded Off-White in Milan, which is defined as "a brand that defines today's culture and embraces the now in a sophisticated way". Prices range between 200 dollars for sandals and more than a thousand dollars for a sweatshirt. Farfetch luxury ecommerce platform bought Off-White's parent company, New Guards Group, last August for 675 million dollars.
Simon Porte Jacquemus, from frenzy to pause
Simon Porte, from Jacquemus is another of the latest phenomena in the sector. Although it started in 2013, it has not been until recent years that this fashion and accessories brand has been at the forefront of the fashion business.
One of the levers to achieve this momentum has been the presence of Porte himself in his campaigns and in the brand's social networks, in which he has more than 1.5 million followers. In October, Porte announced that it was taking "a break" from the catwalks until next January to decide on the next chapter of the brand.
The company, which remains in the hands of its founder, achieved a revenue of 10.5 million euros last year and employs more than forty workers in its Paris offices. Its distribution is concentrated in the multi-brand channel, with 230 points of sale worldwide and presence in the main online luxury sales platforms.
Demna Gvasalia, from Vetements to Balenciaga
Each generation has its own terrible enfantof fashion, and that of the current one is Demna Gvasalia. The Georgian designer rose to fame at the hands of Vetements, founded in 2014 by him and his brother Guram Gvasalia.
With an urban aesthetic and with vulgar references, Gvasalia was the architect of the ugly sneakers, copied the Ikea bag to sell it at 1,700 euros with Balenciaga and the DHL shirt to market it with the Vetements tag for 200 euros.
In 2015, Kering knocked on his door to place the designer in front of one of his crown jewels, Balenciaga. After four years working for both fashion houses, Gvasalia left Vetements this year, after the firm overcame the one hundred-million-dollar barrier.
Ditte Reffstrup, the queen of the new 'premium'
Ten years ago premium fashion had Italian or French origins, now it comes from the north. The spearhead of this new generation of Scandinavian creatives is Ditta Reffstrup, co-founder of Ganni.
The brand, founded in 2009 by Reffstrup and her husband Nicolaj Reffstrup, is headquartered in Copenhagen and is present in more than 400 multi-brand stores around the world, in addition to adding 21 own outlets in Scandinavia and the United Kingdom.
In 2017, L Catterton (born from the merger of Catterton and L Capital) acquired a majority stake in the company for an amount that did not transcend. During the last three years, the company has grown at a 50% annual rate and is expected to exceed 70 million euros this year. After opening in London in early 2019, the next border Ganni wants to conquer is the United States, where it plans to open its first store next year.