Supreme's Italian legal fake heads to Spain with flagship store openings in Barcelona and Madrid
The brand steps forward in the country under the name Supreme Spain, after losing a lawsuit against the eponymous New York streetwear label for counterfeiting.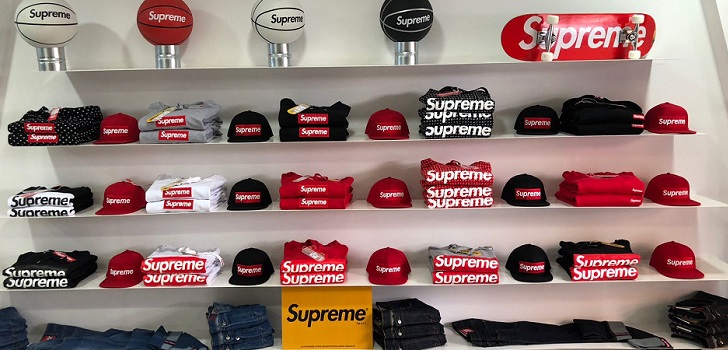 It sells t-shirts, baseball caps and even skateboard with the classic Supreme logo, but it has nothing to do with the New York label. This is Supreme Italy, a so-called legal fake that has been sold for several years in multibrand stores both inside and outside its country, boosted by the boom of the original brand. The label now prepares flagship store openings in the Spanish market under the name Supreme Spain.
The logo, which also feature white lettering in Futura Heavy Oblique font on a red background, is distinguished only by being larger, although the brand uses a different one with a yellow background on its website. Until last year, it was legally used in Italy.
The reason is that the original Supreme logo itself is, in turn, a copy, and its intellectual property took many years to register. The brand's popular red box is almost identical to the graphic style used by conceptual artist Barbara Kruger for the past forty years.
Supreme Spain operates already two stores, located in tourist destinations Ibiza and Formentera
However, Supreme decided last year to take legal action against the Italian firm, founded in Barletta. The label filed a lawsuit for counterfeiting and a judge ruling agreed with the brand claims. A court in Milan estimated that Supreme, although not being registered in Italy, was already "famous" in the country, as it was distributed through selected multibrand stores and through ecommerce, working with local streetwear distributor Slam Jam.
The judge prohibited Supreme Italia from using the trademark in the country and seized 120,000 products from the company. But it didn't say anything about Spain. The group has been operating in the country for some time, through different distributors, and has two stores in tourist destinations Ibiza and Formentera. The goal now is to open flagship stores in Barcelona and Madrid during the summer.
Supreme Spain distributes collections for men, women and children, with products ranging from sweatshirts and shirts to pants. The company sells also an accessories line consisting of hats, flip flops and backpacks, among others. Prices range from 34 euros for a t-shirt to 69 euros for a sweatshirt.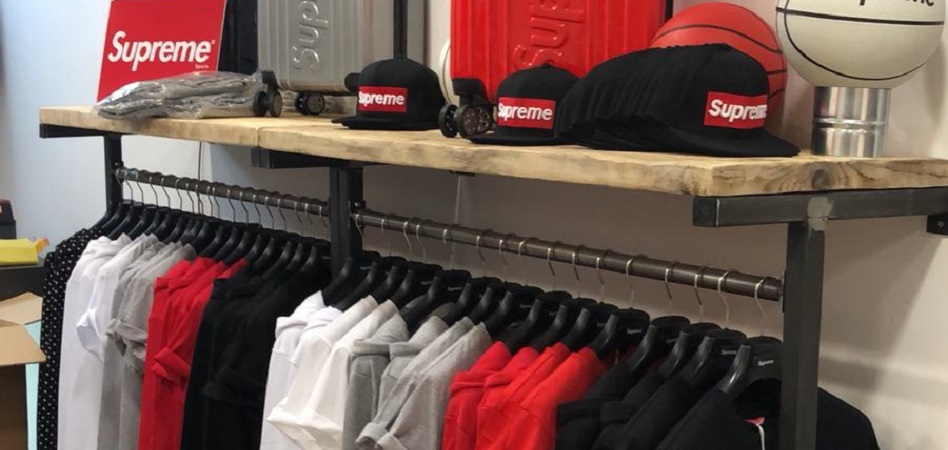 Supreme, the skate culture icon blessed by The Carlyle Group
Supreme was founded in 1994 in New York, at a time with a burgeoning society where the mainstream coexisted with several suburban cultures. James Jebbia, the founder, invested around 12,000 euros to open a small store in Lafayette Street, in Manhattan, which soon became a mecca for local skaters.
Now, more than twenty years later, the label has become a company valued at 1.1 billion euros, still a benchmark of niche brands, but also widely popular thanks to collaborations with groups such as Louis Vuitton, Levi's, Fila or Champion. The Carlyle Group, one of the largest investment firms in the world, took a minority stake in the company last autumn with the aim of taking it to the next level.
Both its logo and recognizable aesthetics have made Supreme one of the most popular brands among counterfeiters. In fact, according to a study carried out by marketing solutions provider SEMrush, Supreme is the luxury brand of which more replicas are searched online, followed closely by Michael Kors and Christian Louboutin.