Timo Schmidt-Eisenhart (Timberland): "The boom of sneakers is not a trend, but a phenomenon."
The President of Timberland in Europe, the Middle East and Africa believes that to re-seduce new generations, fashion companies must make a firm commitment to sustainability, given that young people are informed about it on the Internet.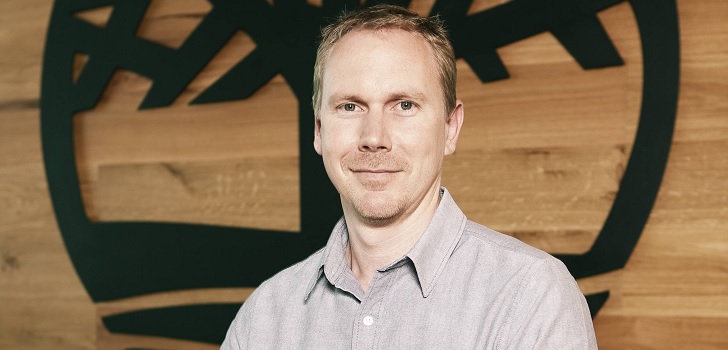 Timo Schmidt-Eisenhart is, since 2013, the president of Timberland for Emea (Europe, the Middle East and Africa). The German executive also worked for another brand of VF Corporation, The North Face, where he was the general manager of the brand for Europe for three years. His career, however, began in the US giant Nike, where he was in charge of different sales executive departments for seven years. Schmidt-Eisenhart has spoken about issues that affect fashion and the future of the sector at the inauguration of the new VF Corporation building in the heart of the city of London.

Question: Fashion consumption is slowing down in the more mature markets. How can the consumer be seduced again?
Answer: We are focusing on sustainability and on the reuse of fabrics, which is probably the last factor of sustainability. Quality means diametrically the opposite of fast fashion and our yellow boots can be used for ten, fifteen or twenty years. This was the original idea of ​​the founding family and they did it before there was any tendency of sustainability in the sector.
Q.: Is the young consumer of today the same as he was ten years ago?
A.: No, the young consumer is always looking for cool new brands. He is really much more aware and is well informed about what is happening around him and on the planet, which was not happening ten or fifteen years ago, when everything was much more superficial. Now the consumer gets deeper. The Internet allows you to investigate and tells people what is behind an industry or a company. You can know everything instantaneously. If the company really follows a good sustainability strategy, has true values ​​and true passion for what it does, it will give value to the brand. People will realize that and, of course, the young people of today will also become aware of that fact.
Q.: How does a brand to reinvent to remain fashionable?
A.: As a brand, you must be sure and you must be honest in what you do. You must be sustainable, but in the end the product should be colorful and attractive. If it is not, people will not buy it. That is why we must also invest in style and innovation, and at Timberland we have fulfilled this demand with the appointment of Christopher Raeburn as the first creative director in the history of the company.
Q.: The phenomenon of athleisure seems to be wearing away in the United States. Do you agree with that?
A.: I think it's not over yet. The sneakers boom is more of a phenomenon than a trend. That's why I do not think it's going to go away. It is a well-established phenomenon that can last for a long time, but forever. Increasingly, people who work in the offices dress in a more informal way, people are starting not to wear suits and that is much bigger than just a trend. It is all a population phenomenon, which is passing in front of our eyes.
Q.: In that sense, the sneakers boom has a ceiling?
A.: Like all things, you can move yourself a little, but as I said, I think it's more of a phenomenon than a trend. A trend goes up and down. That is not the case with athleisure and sneakers.
P.: Europe is aging. Do you see Europe as a future market?
A.: There is no doubt about that. I would really say that the European market is a complex market. We are very active within that market, because it is key as a region in the global context. No one talks about the African continent, but that is also part of the region I lead and we take it very seriously. In addition, VF Corporation clearly stated that Asia is also one of the major strategic focus points for the group. But in reference to the European market, there is definitely no saturation and we see a future for us in Europe.