Boggi speeds up its expansion: new markets to reach 400 stores worldwide
The Switzerland-based, Italian-born company is planning to enter the Czech Republic and Poland and is also taking its first steps in China, where it has a plan to open 30 stores.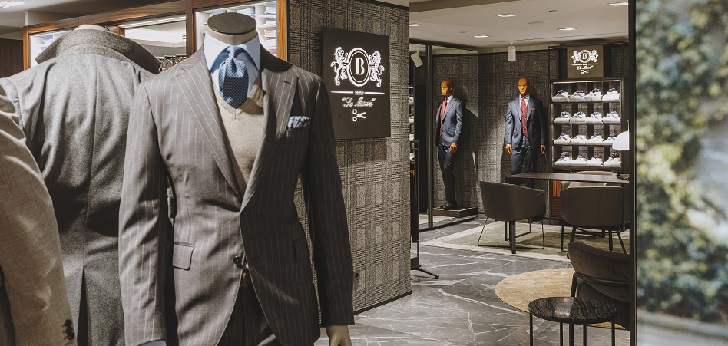 Another Italian fashion company wants to conquer the men's wardrobe all over the world. Boggi, founded in Italy in 1939 and based in Switzerland, has planned to reach 400 stores worldwide in two years, Paolo Selva, Boggi's CEO, has told MDS.
The company has just opened its brand new flagship store in Paseo de Gracia in Barcelona, and has a plan of opening around twenty stores in Spain. Boggi has also entered the Portuguese market with a flagship in Lisbon's Avenida da Liberdade.
This will be the first fiscal year in which sales outside Italy will outpace those inside its local market or, as Selva calls it, "the mamma". In order to keep pushing its international expansion, the group will enter new markets such as Czech Republic and Poland, as is also taking its first steps in China.
"The United States is a tough and expensive game, and I think that if you're willing to play that, you should go to China first", says Selva. "We're starting with a regional partnership to open the first 30 stores in the country, starting next year".
Boggi has 190 points of sale worldwide and its planning opening stores in new markets
In 2007, Boggi had only sixty stores. Ten years later, it reached the 100 stores milestone and now it operates in 190 points of sale worldwide, most of them directly owned. "Retail is in our DNA, we've never done wholesale", recalls Selva.
The executive defines Boggi style as "traditional but with a twist", and precies that, although its price positioning is similar to that of Hackett, Hugo Boss or Brooks Brothers, the company is "perceived as more luxurious than those".
Boggi manufactures 60% of its collections in Italy, mainly blazers and suits, and makes the rest in Europe and China. "Unless you can sell at Cucinelli's price, you have to go to China", says Selva.
Boggi was born in 1939 in Naples and, twenty years later, it opened its first flagship store in San Babila Square. The group began its internationalization in 1996, when it opened its first store in Geneva (Switzerland). However, it was not until the 2000s that the company gained new momentum with the opening of new stores abroad and a repositioning of the brand.
In 2002, Milanese group Fin.part took 90% of the company for 8.65 million euros, while its founder Paolo Boggi retained 10% of the capital. Only a year later, Boggi changed hands again and was acquired by the brothers Carlo, Claudio and Roberto Zaccardi, members of the same family that owns the Brian and Barry Italian department stores. Although the company does not communicate its turnover, several Italian media estimates it at more than 200 million euros.