Erik Bang (H&M): "The challenge is to create a culture where it is OK to fail"
Bang has been responsible for innovation at the H&M Foundation since 2014 and he is also the driving force behind the Global Change Award. As he says, the key to innovation is to feel confident and establish among players.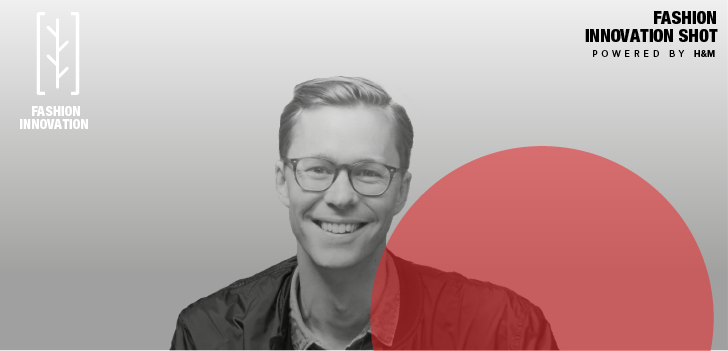 There is strength in numbers, or in this case, innovation. This is the vision of Erik Bang, who since 2014 has headed the innovation area of the H&M Foundation, a non-profit organisation driven by the Persson family, founder and owner of the H&M group. Bang, who holds a master's degree in political science from the University of Uppsala (Sweden) and has experience in the financial and communications sectors, has also been responsible for developing one of the foundation's largest programmes, the Global Change Award, launched in 2015. He believes that innovation requires more synergies and, above all, losing the fear of failure.
Question: What does it mean to innovate?
Answer: To set your mind free to do whatever you want without preconception of what is right and what is wrong and to challenge every assumption that you know. That will eventually open doors to brilliant things that you didn't know were possible.
Q.: Is it easier to innovate with a foundation than with a fashion company?
A.: It's different. You always have different strengths, weaknesses and opportunities depending on what organization or entity you are. We are very fortunate at H&M Foundation to have the resources to be able to engage in very exciting projects as well as being given full confidence that we know what we do and just go nuts and do it with little hesitation. We should take risks and be bold, that's our role to play.
Q.: Product, technology, materials… Where should the focus of innovation be?
A.: The fashion industry needs innovation across every single step of its value chain, so we need better products, better processes, better technologies, and better behavior as well. We also need solutions that enable these transformations. We try to stay as curious and open-minded as possible. The beauty of innovation is that most of them do not come from the fashion industry. It's beautiful to listen to people that come from outside our industry. Our role to play as a non-profit foundation is to be at the very earliest stage, when the risk is so high that a company cannot invest or support it because it's just too risky. So we can provide that funding or access to industries, visibility and coaching to the individuals.
Q.: Can you teach a person or an organization how to innovate?
A.: Yes, you need to set the right processes in place and you need to create the culture so that people feel secure in taking risks and thinking outside of the box. You need to also allow for failure because we learn from it. As a Foundation we are supporting to create a safe community with a large amount of trust and confidence with partners. We like to share the beautiful success stories but I assure you every single day is not like that. There are a lot of challenges you need to deal with and the challenge for established organizations is to create that sense of culture that it is ok to fail in investments or in projects and still grow.
"The fashion industry can certainly collaborate more and open up with other industries that are not making garments"
Q.: Is there a need for more collaboration among retailers and producers?
A.: Yes, this industry needs more collaboration among players and brands and suppliers. No one is going to solve the problems on their own because they are too big for one organization to fix. Both the industry's supply chain but also the planetarium and environmental challenges we are facing. Collaboration is a great way to discuss a problem from different perspectives. The fashion industry is fairly good at collaborating among peers. But we can certainly collaborate more and open up with other industries that are not making garments: transportation, energy, science, there's so much we can still learn.
Q.: What role does the client play in innovation in fashion? Are they pushing for it or should companies go one step ahead?
A.: Yes, consumers want to be able to enjoy fashion and express who they are knowing that they are not hurting the planet. So they are really pushing the industry to improve fast. At the same time, a lot of players in the industry are helping pushing consumer awareness which is starting to create a positive cycle where consumers and the industry are working together to improve the overall impact of the industry. That being said, this it is not moving fast enough, so we need to be more encouraged by regulation so it's cheaper and more profitable to offer circular and sustainable products than it is to continue wasting resources. We are at a point that we actually have so many solutions that can solve our problems, but the plain field for the industry is just not designed for these sustainable solutions.
Q.: Is innovation expensive?
A.: Innovation comes with a need for investment. First of all, in time to think outside of the box and do something new. You need to validate your innovation through a number of tests, so yes it comes with a price tag. But it's not a cost, it's an investment in future proofing your own business and your customer's offering. That's where the fashion industry is lacking a bit of heritage and culture to invest on R + D compared to other industries where this investments are part of their DNA. Innovation is costing in a short term but we will gain that in the long term.
Q.: Do big companies need start ups in order to innovate?
A.: We can teach innovation because mankind is incredibly innovative. We have innovated every single day since the beginning of evolution, but we also become comfortable. Start ups provide this need of injection to kick start innovation and they can lead the way to innovation. Big companies need start ups both because they can collaborate with them but also a bit of as a stick because if you don't innovate yourself, then those sart ups are going to take over the world.
Q.: Is this a good time to try new things?
A.: Yes, it definitely is. We are facing a lot of challenges, so it is the best time ever. It's the only way we can future proof our way of living and I mean our climate and environment in order to provide a living for our families. I am very encouraged by all innovations and solutions that I see that we can fix this, but we need to get over this threshold and we need to start scaling these solutions, not just talk about it but actually implement them.
Q.: What industry can fashion learn from in terms of innovation?
A.: The fashion industry can learn so much from the food industry actually, which are decades ahead of us in terms of shifting from very harmful practices to more planet-friendly products in terms of meat alternatives or dairy alternatives, but also in how you communicate that, in how you engage consumers in that transformation and shifting centuries old behavior of eating certain products into trying this new fun creative products that we have never seen before and helping them be courageous and try them. We most definitely can learn from them. When it comes to hard deep technology in our supply chain, what's happening in the automotive industry, where you go all the way back to the very propulsion system of the vehicles and you are shifting that, that really enables a new supply chain, a new way of using vehicles and new infrastructure. I find it very inspirational for our own industry. Lastly, we can learn from automatization, not to say that we will replace millions of jobs, but that making things with new technology enables us to set up a more efficient supply chain where we don't have to produce six or twelve months in advance, but we can make the garments our customers want, when they want it and actually have already paid for it. So consumers decide and we produce, simply eliminating the inventory, the risk for overstock and the impact of all of that combined.