Spanish shoes retailer Marypaz enters in Italy and Mexico with Hudson and Oseneca after reaching 100 million
The company has agreed to open 50 stores in Italy and 40 in Mexico, while investement fund Black Toro could be searching options to sale the business.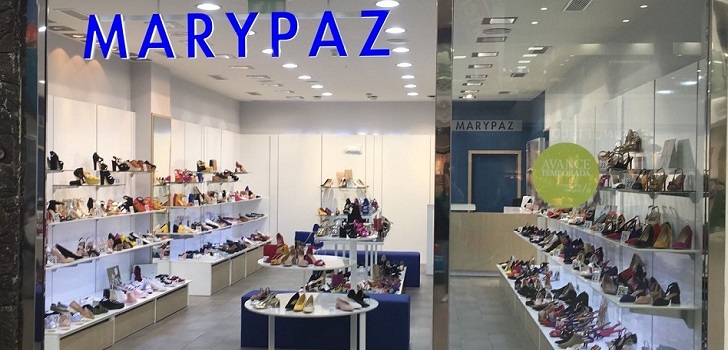 Spanish shoes retalier Marypaz enters two ore markets. The company, which was rescued from the courts by investment fund Black Toro in 2016, has sealed an alliance to land in Italy and Mexico. The company controlled by Black Toro and partially owned by the Aguaded family, has reached agreements with the groups Hudson and Oseneca after reaching the 100 million euros in turnover in 2018.
With this operation, the Spanish company resumes its international expansion, while investement fund Black Toro could be seraching options to sale the business. The fund began its entry in the fashion industry with the purchase of Marypaz, and later it bought other companies such as Amichi, Forecast or Trucco.
Sources from Marypaz told Mds that the company ended the year 2018 with a turnover of 98.8 million euros, which represented an increase of 16% compared to the 85 million euros of the previous year. Eccommerce represents 26% of its sales.
Marypaz had a turnover of 98.8 million euros in 2018, 16% more
With a gross margin of 54%, Marypaz ended 2018 with a negative ebitda of 3.3 million euros. The company's forecasts to reach break-even in 2019 and have positive ebitda by 2020.
While the company is reinforcing its online activity with a "digitization process" and the lunch, for example, of a new app, Marypaz drives its brick and morter distribution network. The company currently has 203 stores in Spain and 19 abroad, located in Portugal, France, Malta and Tunisia.
In the expansion process, led by Mango's historic manager Isak Halfon, Marypaz is preparing its entry in Italy along with Maltese group Hudson. The agreement with Hudson, distribuitor of brands such as Nike, New Look or Kiabi in more than 30 countries, includes the opening of fifty strores in Italy.
The company's projects to reach break-even in 2019 and have positive ebitda by 2020
In Mexico, the Spanish company, based in Seville, has allied with the local group Oseneca with a plan to open a total of 40 stores in a four-year period. Marypaz, which combines directly-operated stores in Spain and franchises in the rest of the world, also is preparing other openings in Algeria and Morocco.
In spite of Black Toro's rescue, the company is still led by the Aguaded family, represented by the second generation of the founding family. Carlos Aguaded is chief executive officer, while María Aguaded takes charge of the design area and other brothers are also involved in the management. The company employs more than a thousand people and has a logistics center in Dos Hermanas (Seville).
After becoming one of the largest fashion companies in Spain as a result of an accelerated expansion process, Marypaz filed for preconcurso de acreededores (similar a Bristish CVA) in April 2016. In July of the same year, the company filed to concurso de acreededores (Spanish equivalent of chaper-11) and in September it was acquired by Black Toro.
Black Toro is creating a fashion holding from purchases of companies in distress. The company, which has investments in other sectors such as ADL, Airtificial, Farggi or Irestal, has closed the purchase of three fashion companies in the last three years. In 2017, the company took over Marypaz, in which it injected 30 million euros. One year later, it took control of Amichi for 15 million, and last year it acquired Forecast.