Three months of de-escalation, flexibility and WeChat: what can fashion learn from China
Local consultancy Fung Business Intelligence estimated that consumption will return to pre-crisis levels in two or three months, according to a report published on March 18, with an especially rapid recovery in clothing and cosmetics.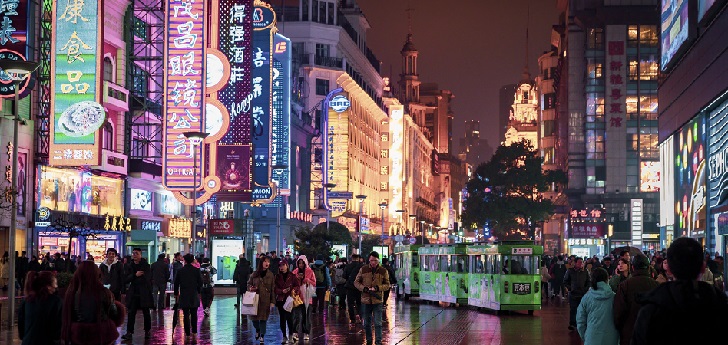 The Chinese Zara, Nike and H&M design their new normal. China is today a time machine that allows the sector to glimpse what can fashion expect when life returns to normal. Local giants such as Lilanz, Xtep or Peacebird are little-known names in the West, but today they mark the path of recovery, with a roadmap that includes streamlining the supply chain and embracing social networks as a sales channel.
All of these listed groups had a major weakness at the start of the pandemic: their dependence on their local market. Although some have tried in recent years to conquer Europe (Bosideng has a store near Oxford Street), they all continue to concentrate the bulk or all of their business in China, with revenues of between 1 billion and 2 billion euros. That weakness is their main strength today: when the pandemic began to spread in Europe and the United States they had already begun the recovery.
Local consultancy Fung Business Intelligence expects consumption to begin to recover in two or three months, according to a report published on March 18. "Then, consumption will gradually return to pre-crisis levels," says the report, much more optimistic than those reported in Europe and the United States.
Sars triggered the expansion of e-commerce in China; Covid-19 could trigger 'social commerce'
Fung expects that with the full recovery of daily life, together with the so-called lipstick effect, the demand for clothing and cosmetics will register "a gradual increase". The strategy of the big groups is to gain flexibility in sourcing, in order to adjust to demand, and, above all, to reinforce their online sales and through social networks such as WeChat, while physical traffic will continue to be weak.
If Sars was the trigger for the expansion of e-commerce in China, coronavirus could become a turning point for the massive adoption of WeChat throughout the entire customer journey: from communication to sale.
Local groups have reduced their sales between 20% and 30% in the first quarter
Dazzle group, which operates with five brands and is listed on the Shanghai Stock Exchange, has started selling directly on WeChat through the mini programs service, which allows to create sub-applications within the platform. The first day the function was launched, the company sales reached four million yuan through the social network. JNBY and the Chinese subsidiary of Bestseller have also adopted this function in recent months.
Peacebird, founded in 1997 and with more than two thousand stores in China, issued on April 2 a statement in which it assured that it was "ready for recovery". The company ended the first quarter with a drop in sales of between 40% and 45%, according to provisional data, and has drawn a new roadmap that includes speeding up its supply chain and launching new online sales models.
The company explains that already during the Chinese New Year holidays it began to test services such as online broadcasts and discounts to accelerate online sales, and that in the coming months it will continue to launch new initiatives to accelerate its omnichannel strategy.
Peacebird has laid out a plan that goes through streamlining its supply chain
Peacebird's plan also includes promoting the application of a flexible supply chain on a larger scale, improving its efficiency and giving a faster response to the market, as well as reinforcing product design and development.
Another group that gives more information about its post-Covid19 roadmap is Lilanz, specialized in menswear and operating with 2,800 stores in China. The company anticipates that its sales in the first quarter will drop 40% and that the entire first half will be adversely affected.
The plan includes, as in the case of Peacebird, significant cuts in production for the winter season and improving the flexibility of its supply chain, as well as strengthening its online channel with more digital marketing and special editions only for the network.
However, it'll keep its offline expansion. In fact, the company plans to open more stores in department stores and outlets to sell its stock in a timely manner, and will continue with its renovation plan in between 100 and 200 stores.
Lilanz will continue opening stores to sell the overstock
Xtep, one of the largest sportswear groups in the country, also insists on the importance of reinforcing the online channel. The company ended the first quarter with a sales drop of between 20% and 25%, according to provisional data, and ensures that it is proactively directing its sales to its e-commerce platforms and executing cost control measures to relief the impact of the coronavirus.
Rivals Anta and Li Ning have also posted declines of between 20% and 25% in the first quarter, while childrenswear giant Semir, owner of Kidiliz, anticipates a decline of 30% and Giordano sales fell 34.6%.
Also holding like Fosun, with investments in fashion and other sectors, have drawn up contingency plans for the outbreak of the crisis. The group, owner of Wolford, Lanvin or Tom Tailor, has put in place "a war mechanism" that includes evolving its organizational structure, increasing its operational efficiency and optimizing its assets.