Versace accelerates retail expansion in Europe and America to reach one billion euros
The Italian company started a new retail, wholesale and digital strategy two years ago to turn the business around, after registering a net loss in fiscal 2016.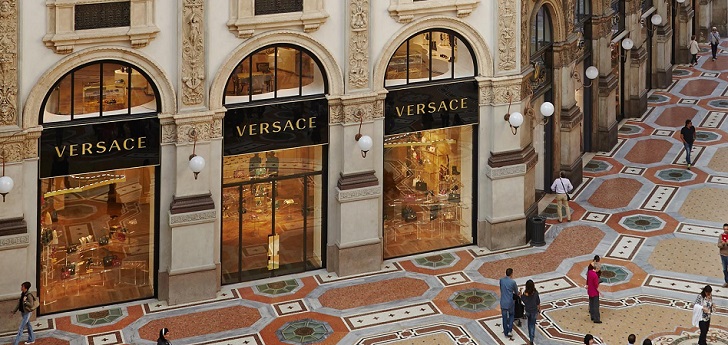 Versace lays the foundation to grow. The Italian luxury company is undergoing a transformation process with new retail, wholesale and digital strategies to turn the business around. The aim of the group is to replicate in Europe and America the success achieved in Asia and reach in the mid term one billion euros in sales, according to WWD.
Changes at Versace took place concurrently with the appointment two years ago of Jonathan Akeyord as chief executive officer. The executive, who previously worked at Alexander McQueen, replaced Gian Giacomo Ferraris at the helm of the company. After his arrival, Versace cancelled his plans to go public.
"When I joined we had opened many stores; at the time, there were around 250 stores," said Akeyord. "Actually, it was a very good retail positioning in most cases, but we needed to make those stores more productive," he added.
Versace ended fiscal 2017 with a retail turnover of 686 million euros, compared to 669 million euros a year ago
In 2017, the company shut down 42 stores worldwide, 21 of which belong to the Versace Collection and Versus chains. However, Akeyord denied rumours that the group plans to close both lines. On the other hand, Versace opened 21 stores last year and also relocated stores and renovated retail locations in key cities such as London, Milan and New York. By the end of the year, the company will introduce a new store concept, whose design has been developed by the Curiosity studio, led by Gwenael Nicolas.
In wholesale, Versace undertook in 2017 a network reduction up to 300 points of sale worldwide. The company generates 73% of its revenues through monobrand retail stores.
Versace ended fiscal 2017 (closed in April) with sales of 686 million euros, compared to 669 million euros a year earlier. The company posted a net income of 15 million euros, compared to the 7.4 million euros loss of 2016. Ebitda remained stable at 44.6 million euros.
Last year, the company closed 21 stores and reduced its wholesale distribution to 300 points of sale worldwide
Akeyord explains that in the twelve months elapsed until April, ebidta rose 50%, while retail sales went up 18% over the same period of the previous year. Ecommerce accounts for 5% of total revenues and it grew 50% last year. In 2018, the company expects to maintain the momentum, after launching its online shop in China last week.
In fact, Asia is the most important region for Versace by turnover. The continent represents 50% of its business and accounts for 53% of total retail revenues. Europe and America, on the other hand, account for 28% and 18% of sales, respectively.
Ecommerce represents 5% of Versace's total revenues
At present, the group's commercial network is also concentrated in the Asian market, where it counts one-hundred stores. In Europa and America, Versace has sixty and thirty shops, respectively.
By product categories, prêt-à-porter accounts for 54% of Versace's total sales, followed by leather accessories, which account for 25% of the business. The missing share corresponds to footwear collections. Menswear and womenswear each represent half of the business.
The company currently has around 2,300 employees worldwide. At the helm of the creative direction is Donatella Versace, after rumours circulating a few months ago about the possible appointment of Ricardo Tisci, formerly at Givenchy.
In 2014, Blackstone took a 20% stake in Versace. For now, Akeyord says that the private equity fund remains strongly involved in the brand's project and isn't considering to quit as a shareholder.