More clouds for European retail: "anaemic" sales and weak profitability, Moody's says
Rising online and discount competition will continue to pressure retailers' sales growth and margins, says the rating company in its latest outlook of the sector.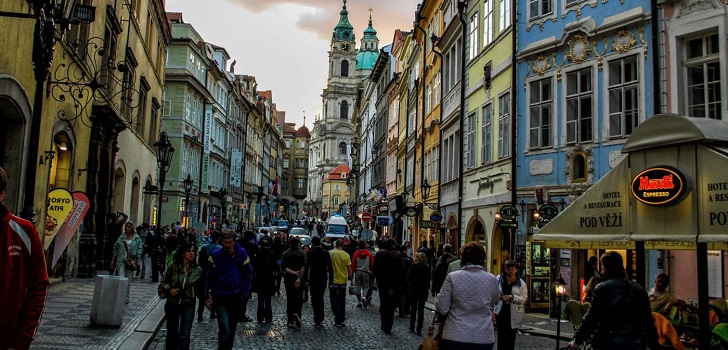 Lower margins, weak profitability and anaemic sales. That's the scenario that European retail will face in the coming year, according to the latest outlook report by Moody's. Changing consumer demand, compounded by slowing economic growth and rising online sales will hurt all the indicators of an already struggling sector.
"Overall European retail sector revenues will remain anaemic into 2020 as online and discount specialists squeeze larger retailers' margins, forcing them to reduce their prices," says David Beadle, a Moody's Vice President-Senior Credit Officer.
The company expects more than 40% of the retailers it rates to record lower profit this year than in 2017 or 2018, or both. This compares with 20% when Moody's published its industry outlook in October 2018.
New Look is the only fashion company for which Moody's forecasts an annual ebitda growth of more than 10% in the period 2018-2020. Other fashion and beauty retailers like Pronovias, Shop Direct or Douglas have forecasts of between 5% and 10% ebitda growth, while for Spanish El Corte Inglés Moody's estimates between 2% and 5% growth. Cortefiel Debenhams, Marks&Spencer and Next show weaker performances, and its expected that their ebitda will grow less than 2%.
Moody's also warns that "retailers which are not in the discount or online segments recording strong growth are mostly benefiting from cost reduction programmes, often after acquisitions, which means superior earnings growth for these companies may not be sustainable over the longer term".
Nor the global context nor the particular situation of the sector appear to be favourable for fashion business. One of the greatest challenges will come from retail's philosophe's stone: ecommerce. This channel, that was first seen as a threat and now as the biggest sales-driver is now squeezing margins.
Ecommerce will continue to impact the margins of the fashion retailers
Online specialists and discount retailers typically operate with lower margins than traditional peers, says Moody's. For example, online fashion platforms Asos and Boohoo had operating margins of 4.2% and 8.8% respectively in their most recent years, achieving a revenue growth of 24% and 48%, respectively.
"This means that the profitability, and in turn the credit quality, of many traditional retailers is weakening as they cut prices to limit sales volume declines", according to the report. "While cost saving initiatives and developing new revenue streams can limit the hit for some, they must also contend with lower in-store sales densities and the need to invest in expanding often margin dilutive online operations".
On the other hand, economic growth prospects will also continue to weaken into 2020, which will probably lead to less consumer confidence and consumption. Demographics will also be key for the future of the sector: "free cash flow and profitability will weaken as companies adjust store portfolios to adapt to demographic changes", says Moody's. An ageing population and high youth poverty are also affecting demand, according to the report.