Trump declares national emergency, retailers to close stores
Last Friday, President Trump declared a national emergency over the coronavirus. Nike, Everlane, Abercrombie & Fitch are a few amongst many that have ceased their operations over the coronavirus.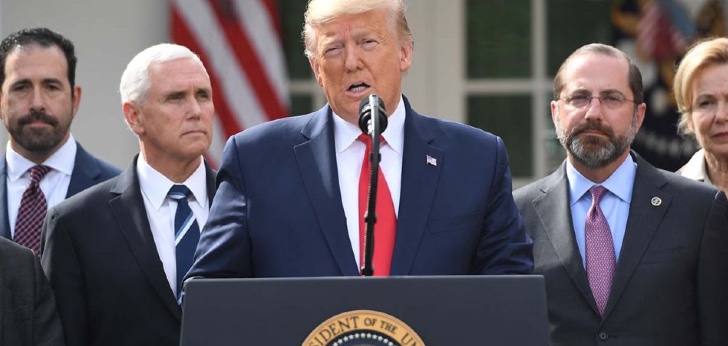 Fashion retailers shut down its stores in North America. Last Friday, president Donlad Trump declared the national emergency amid the rise of the coronavirus outbreak. Follwoing this announcement, many brands have opted to close its stores in North America and overseas.
The American fashion distribution group VF group, owner of Vans and The North Face, has publicized the temporary closure of all owned stores across North America, effective today through April 5. VF did not only limit the closures to its retails stores, the group took the measures a step further with the additional closures of both corporate and brand offices, also in North America. The actions taken align with similar decisions made in the EMEA and Asia Pacific regions. "In mainland Europe, VF has closed all offices and retail store locations until further notice, and its locations in the United Kingdom are currently operating on reduced hours." That said, the company's business in Greater China have started to operate again at a 90% rate approximately.
Sportwear and footwear giant Nike announced on Saturday that it will be shutting down all of its stores in the U.S. and Canada, Australia, and New Zealand starting today. The closures are meant to last till March 27. The company has a total of 384 retail stores in the U.S including factory stores and its Converse and Hurley brands. For the fiscal year, 2019 Nike Brand and Converse sales accounted for approximately 41% of its total revenue in the United States and the other 49% derived from international markets. Nike equally has several stores in France and Spain, two other European countries that have joined Italy in the shuttering of all retail stores.

Patagonia was one of the groups that announced its closures along with Nike and other American retailers on Friday, stating that "Employees who can work from home will do so. All Patagonia employees will receive their regular pay during the closure. We apologize that over the next two weeks, there will be delays on orders and customer-service requests. We ask for your understanding and patience."
VF explained that 90% of its stores in China have already opened
Everlane said that its closure would be effective starting Sunday, March 15. "This is a critical moment in the world. With the situation evolving quickly, we must all do our part in slowing the spread of Covid-19," the company stated.
URBN which operates around 600 stores under brands such as Urban Outfitters, Athropologie, BHLDN, Free People, Terrain, and Nuuly has also announced its intention to close its stores in a press release, "we have decided to close all of our stores around the globe, stores will not reopen until at least March 28."
Supreme said it'll be closing its stores in New York and London until further notice. Reformation did the same, along with Steve Madden, "This is obviously a rapidly evolving situation, and we will monitor developments going forward and adjust our plans as needed," the company wrote on its social media account.

However, many brands will be taking orders online despite closing their physical stores, such is the case for Lululemon, "we are living in uncertain times and we're learning more about this virus every day. We are taking this step to help protect our global community, guests and people, and ensure we are doing our part to prevent the spread of COVID-19," said Calvin McDonald, Chief Executive Officer. The athletic apparel company has closed all of it stores in America and Europe until March 27. The company will provide futher details regarding the impact of the Covid-19 on its business during the presentation of its fourth quarter of 2019, due to be presented on March 26.
Lifestyle retailer Abercrombie & Fitch also announced its plans to close stores, from March 15 to through March 28. However, in a press release the company specified that "its locations in the APAC region will remain open. The Company's online stores currently remain open in all regions."
The PVH group also joined the long list of retailers that have closed their stores due to the coronavirus. The American group, owner of Tommy Hilfiger and Calvin Klein, has announced the closure of all its stores in Europe and North America from March 17 through 29. The company's offices, however, will remain open in both regions, although employees will be working remotely.
Due to social instance, shopping malls have also had to close down. Such is the case for shopping mall American Dream, the second largest mall in the United States, it'll be closing today through the end of March. "As a shopping and entertainment brand built for the largest and most diverse community in the world, we have a responsibility to keep that community informed and safe," American Dream Stated. King of Prussia also shut down on Saturday, March 14.