Carlo Cavallo (Nicole): "Winning today in bridal fashion is a matter of marketing investment"
The cofounder of Italy's largest bridal wear brand, acquired earlier this week by Spanish group Pronovias, shares his thoughts on the importance of size, venture capital pressure and taking the business overseas.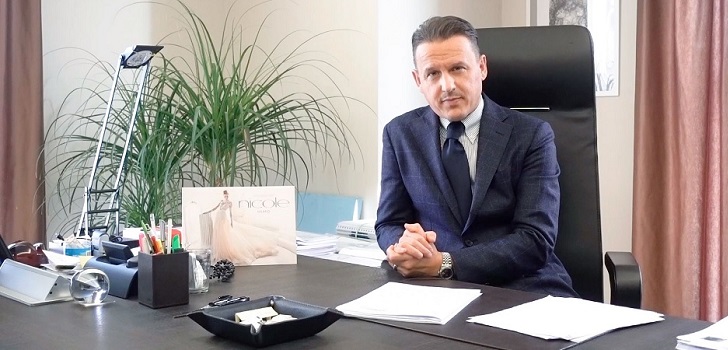 Size, size, size. As in the fashion mass market, volume has become a key factor for bridal fashion companies. Propelled by this approach, Spanish group Pronovias, owned since mid-2017 by BC Partners fund, acquired last Monday Nicole, Italy's largest bridal wear brand. Carlo Cavallo, co-founder of the firm along with his wife Alessandra Rinaudo, assures that the first key synergy will be in marketing investment, a factor that is almost more important than the product to grow the business, he believes.
MDS: Is bridal fashion a scalable business?
Carlo Cavallo: Yes, it is. However, even though of course the most important thing is to grow a business, it can't be done at all costs in this sector: we must always pay attention to product and customer experience.
MDS: How can you reach scale in bridal fashion?
C. C.: Growth today isn't a matter of product, but of marketing investment, and that's the area where Nicole needed a push to grow. I believe that's what a large group like Pronovias could bring us, besides a strong structure and management team that understand us.
MDS: There's never been a big bridal fashion group worldwide. Is this Pronovias' goal after taking over Nicole?
C.C.: This is a very segmented market and Nicole and Pronovias could become the first large bridal wear company on a global scale. For us it's a great opportunity to grow in Europe and, in a second stage, also in Asia and the United States, a country we entered last year.
"Nicole and Pronovias could become the first large bridal wear company on a global scale"
MDS: Does venture capital pressure scare you?
C.C.: We've come up with a very committed team, both at Pronovias and BC Partners. I see a brand new Pronovias under Amandine Ohayon's leadership, with a fresh mentality. It's a new company stage and that is why we've reached this agreement.
MDS: What kind of synergies could be exploited?
C.C.: It's still to early to answer that. Nicole and Pronovias will continue to operate as separate brands, each with its commercial team and portfolio, which totals twelve different collections now. Each company will maintain its identity, we can't cannibalize ourselves.
MDS: What are your mid-term goals?
C.C.: Italy is our first market, but we still have room to grow. Pronovias too. Our initial goal was to grow the business with retail first in Europe and I think this roadmap will be maintained. In recent years we've grown at a rate of 25% per year and we expect to close this year with sales of 28 million euros.