Carlos Eduardo Botero (Inexmoda): "Trade shows have to move forward, product is no longer enough"
The president of Inexmoda explains that face to face is very important for the textile industry as well as the importance of Latin America in the sector.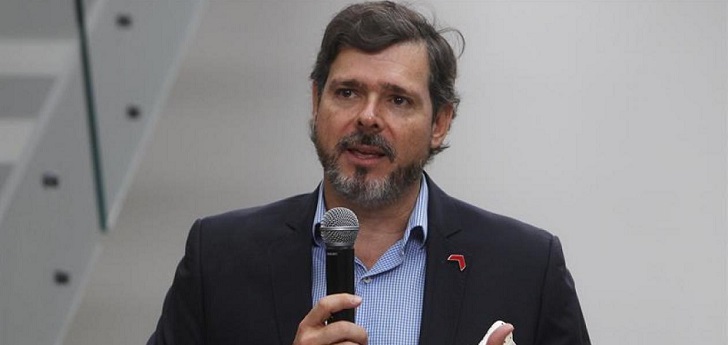 Graduated in Business Administration from Eafit University in Medellín, Carlos Eduardo Botero is since 2008 the president of Inexmoda, the organization that creates Colombiatex de las Américas and Colombiamoda, the most important textile shows in Latin America. Botero presented a new trade show for the region when Inexmoda got the license of the German fair Heimtextil. Carlos Botero explains the trade shows of the future, how will the textile industry continue to grow, despite the political irregularities, and the results that the organization wants to achieve with this alliance.
Mds: Why this alliance with Heimtextil?
Carlos Eduardo Botero: We have had conversations with Messe Frankfurt for seven years, during this time we have been getting to know each other and also the different fairs they do, then we begin to analyze what opportunities I could develop with them. Today Colombia has very good results in the hotel and construction sector, so we started conversations two years ago about what Heimtextil could do in the country. On January 9 the final documents will be signed and in April next year the fair will be held under a Latin American vision, which will feature 110 exhibitors.
Mds: Have you use the license model in the past?
C.B.: This will be the first time we ally with an international trade show organizer. Until now we only operated with our own fairs or created new ones.
"This great opportunity happened to gather years of experience and put it at use in Latin America, through Inexmoda"
Mds: Why a license instead of launching a trade show from scratch?
C.B.: Because we have the opportunity to work with a fair organizer with many years of experience as Messe Frankfurt, and second because of the alliance that we achieved with Heimtextil, the world's number one trade show organizer in home textiles.
Mds: Global fashion sales are slowing down, is the home textiles sector growing?
C.B.: Colombia is a country that can represent interesting opportunities for the textile sector due to the increase of new hotels, construction development and the increase of tourism.
Mds: Are synergies going to happen with Colombiatex and Colombiamoda?
C.B.: For now, it is a totally independent fair, with the alliance what we seek is to put at use the experience of Messe Frankfurt, the know-how and the opportunity to learn from them and how to venture into these much younger markets. The connection with Latin America is sought by bringing international exhibitors who have shown interest in being part of this edition of the fair in Colombia.
Mds: The first edition of Heimtextil Colombia will take place in April 2021. What profile are you looking for in terms of exhibitors?
C.B.: Exhibitors that offer the entire range of textiles for bed, home and groups that buy for the hotel sector, we are open minded since it is a business in development. As for visitors, visitors from Colombia, Ecuador, Peru, Brazil and Central America are expected. Once we have made the official launch, we are waiting to see what other countries react and who will be interested in the fair.
Mds: How is the Latin American and Colombian home textile industry?
C.B.: It is an industry that has a smaller offer than other sectors, such as denim or fashion, however it is an industry that does have important players in the sector of furniture fashion, curtain fashion, of towels and we want that with this new opportunity of Messe Frankfurt, we can continue growing with international players that will help us improve our professionalism and create the basis for a more critical market.
Mds: Is the industry focused in large operators?
C.B.: Today, yes, and the idea is to generate more opportunities for them through new players and buyers and also generate new opportunities larger than those currently in Latin America.
Mds: What is the investment of Inexmoda to carry out this edition of the fair?
C.B.: We have just started the development of the fair, so we have not yet made investments in resources, rather than travel. After the launch, we will begin to structure the project and we hope to be clear about the investment that we must make after our meetings with their commercial team.
"Trade shows have to move forward, product is no longer enough"
Mds: The future of trade shows is being widely discussed globally. How do you see the fair of the future?
C.B.: There is a debate about whether humans should still be present or virtually in the future. In the textile world, face to face is important to facilitate business, and we have learned that definitely in the textile business, meeting between both parties will continue to be very important, although always favoring technology. Technology plays a very important role because it will help the exhibitor and the visitor have very pleasant experiences to be part of the fairs.
Mds: Have you considered the possibility of opening fairs to the final public?
C.B.: We already tries that in Colombiamoda 2019 but in a very controlled way, you cannot be closed to what happens in the world and what generates the pattern for future fairs.
Mds: Does instability in Latin America worry the Fairs sector?
C.B.: Political issues must be considered, but for example for Colombiatex which will be in two weeks, we grew in square meters and the total space of the trade show is sold. Colombia is one of the few countries that will grow in 2019 and the projections are positive. The Colombian economy will continue to be relevant in Latin America.