El Corte Inglés: reaching sustainability through global alliances
In the frame of the ITMF 2019 conference in Oporto, Portugal, the company talked about the plans of the group to tackle sustainability.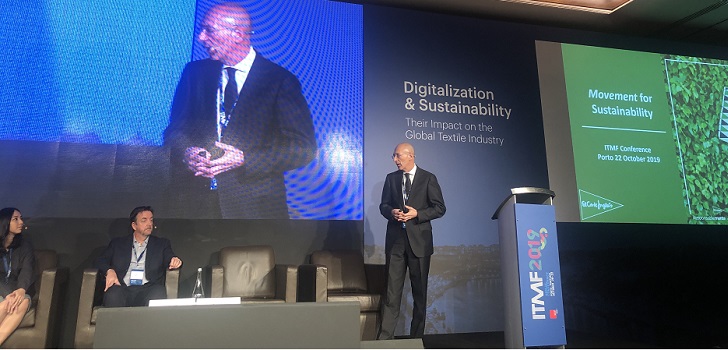 El Corte Inglés boost alliances in its path to sustainability. In the frame of the ITMF conference in Oporto, Portugal, that took place from October 20-22, Bernardo Cruza, Head of corporate social responsibility of the Spanish department store, mentioned the work the company is making to turn the made in Spain label in a synonym of a more sustainable supply chain.
Cruza explained that the group works under four key drivers for becoming a greener company. The first one is to use sustainable raw materials, which represent 60.6% of the company´s entire materials use. The second is to close the loop in its stores, the third is to design and manufacture in a sustainable way and the fourth is to boost its local production.
Cruza mentioned the importance of alliances to achieve the level they want in sustainability, "we are aware that we cannot do it alone, if you want to move forwards in this subject we need to work with our entire supply chain, both of our private labels and our suppliers."
About 17% of El Corte Inglés total sales come from its private labels
About 17% of El Corte Inglés total sales come from its private labels, the division where the company has more control over its production. Boosting the "Made in Spain" with a sustainable background is one of the company's main goals. "We want to involve our suppliers in the process, we want them to be a part of the movement," stated the executive.
The executive also mentioned that the group is calling its customers to also act in a responsible manner, "as we act sustainable, we expect our clients to also act sustainable; we invite them to buy better."
El Corte Inglés plans to be certified zero waste by 2022
For this, El Corte Inglés has created communication campaigns that explains its customers its supply chain and transparency with a system of barcode scanners in-store where people can see in their smartphones the information concerning a specific garment.
This is part of the groups' bet for digitalization, as well as its stagey to have a bigger share of its business online "we want to bring together the physic brick and mortar with the digital world," explained Cruza.
The groups' plans for becoming more sustainable are to be certified zero waste by 2022, to source 100% renewable energy and promoting circular economy. The final message of the executive in the event was that nowadays sustainability is a must "either we work in a sustainable matter or it will be impossible to sustain any business in the sector".