Ernst Malmsten: "E-commerce today's barriers are the same than 20 years ago"
Malmsten was the founder of Boo.com, pioneer in fashion's e-commerce in the nineties decade. The entrepreneur has discussed the main challenges of the industry in the second lecture of Shaking Fashion.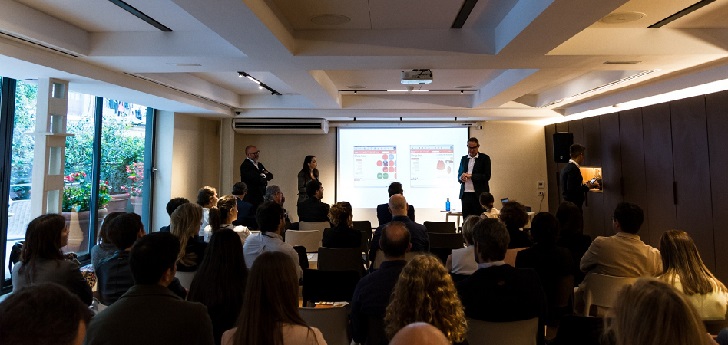 The same barriers that curbed the online commerce two decades ago are the same that are currently facing fashion corporations. This is the main conclusion that Ernst Malmsten, founder of online's platform Boo.com, has exposed in the second meeting Shaking Fashion, organized by Modaes.es and EY.
"When we launched Boo.com we overestimated the impact of the online commerce in short term, but we underestimate its reach in 30 years' time, because people didn't know what internet was yet, they feared it", stated one of the fashion's e-commerce precursors in the nineties.
"The main challenges of the fashion companies' online commerce have always been the logistics, the customer service and its database", pointed the speaker, who highlighted "the conversion alongside with social media and image", as sector's today challenges.
Malmsten sold his online book sales site Bokus.com to Bertelsmann, in order to create Boo.com
Malsten, that has a wide path within digital's commerce world, founded one of the first online books selling platform, Bokus.com, in 1996, arriving to become the first online bookstore after Amazon and Barnes&Noble.
The Swedish subsequently sold the company to Bertelsmann, to create the first online sale platform in Europe, Boo.com, dedicated to fashion and sports equipment distribution. The company had to close years later, due to lack of sales, despite the financial support of J.P. Morgan, Goldman Sachs and Bennetton, as well as from LVMH's president, Bernard Arnault.
"If we had promoted the business we launched in the nineties today, we would start with the mobile channel", affirms Malmsten. "In the online sector, it's important not to arrive to soon, but neither too late: the timing is key", indicated the expert, who stated that fashion's companies sales are expected to come from the online channel a 56% by 2022.
After Boo.com closure, the entrepreneur experimented that "the line between success and failure is too thin"
In this sense, the employer held that after Boo's closure, he learned a thought that affected him: "The moment you choose to launch a business it's everything, because the line between success and failure is too thin", he said.
The session that Ernst Malstem has leaded and that has been celebrated under the title Ecommerce: lecciones aprendidas y retos futuros takes part of the cycle of meeting driven by Modaes.es and EY, which is pretending to invite Spanish fashion sector's businessmen and managers to rethink the sector.