Fashion retailers jump into pride parade as LGBT month approaches
International groups like H&M, Primark, Calvin Klein, Tommy Hilfiger and Levi's have launched capsule collections coinciding with the proximity of pride marches. LGTB consumers spends more on leisure and fashion than straight ones, according to a Nielsen study.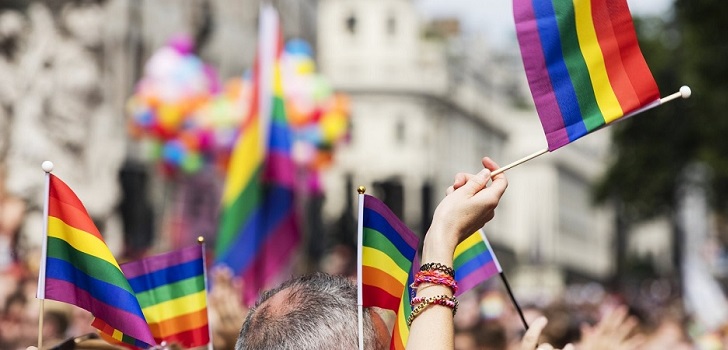 LGTB community gain momentum for fashion retailers as pride marches approach. In recent days, international groups such as Primark, H&M, Calvin Klein, Tommy Hilfiger and Levi's have launched capsule collections inspired by the rainbow flag. Companies use these initiatives to capitalize on the popularity of pride celebrations worldwide and sneak into consumers' top of mind. LGTB individuals bet more on heritage brands, spend more money and are early trend adopters, according to several studies.
Purchasing power among gays, lesbians, bisexuals and transsexuals was estimated at around 971 billion dollars (832.5 billion euros) in the United States alone in 2016, according to data released by Witeck Communications. The same report states that 7% of adults in the country identify themselves as LGBT community members, a fact that enabled the firm to estimate their purchasing power.
The size of this market has led Irish low cost retailer Primark to launch its first pride collection, which will be sold in the US and several Western European markets.
LGTB community purchasing power in the United States was estimated at about 971 billion dollars (832.5 million euros)
Part of the proceeds, 20% of sales, will go to Stonewall, the largest charity organization supporting the LGTB collective in the United Kingdom. Swedish behemoth H&M has launched a specific collection for this audience under the title The Love For All and 10% of revenues will go to the United Nation's global campaign Free&Equal.
PVH Corporation, owner of the Tommy Hilfiger, Calvin Klein and Speedo brands, among others, has also introduced products for pride marches. Besides, the company is also one of the sponsors of the pride celebrations in Amsterdam (Netherlands).
Pride fever has even reached the luxury industry. Last February, Burberry presented on London Fashion Week a range of items inspired by LGTB icons, including some with a reinvented version of his classic tartan with the rainbow flag.
PVH, H&M, Primark and Burberry have launched pride-inspired collections this year
LGBT importance as a business target, with its own consumer behaviour when shopping and travelling, has placed gays and lesbians on the international agenda. In 2017, the World Tourism Organization (WTO) presented the second edition of the LGBT Tourism Report, which highlighted the potential of these individuals for this industry and analysed how to effectively maximize its value.
On the other hand, Deloitte published this year in Australia, a country where homosexual marriage was recently legalized, a list of the fifty most influential LGBT executives in the country. The ranking included high-profile individuals within public and private entities that talked about how diversity can be fostered within local companies.