Jorge Martín (Euromonitor): "It is a mistake to think that millennials will save the future of fashion"
The head of fashion research at Euromonitor International reflects on how to prepare for a new crisis, what will happen with the athleisure boom and why we should start being loyal to the older generation today.
Crisis, recovery, the athleisure boom, and the slowdown of China… Jorge Martín has lived closely every chapter of the last decade in the fashion business as head of fashion research at Euromonitor International, a post he holds since 2008. The expert, holds a degree in Psychology and a master's degree in Applied Social and Market from the University of Westminster, reflects on how to prepare for a new crisis, what will happen with the athleisure boom and why the sector should stop obsessing with millennials and start aligning with the older generation.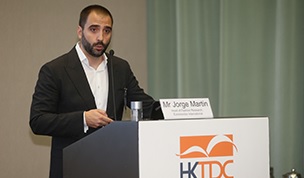 Question: Fashion consumption is slowing. Why?
Answer: The sector has grown around 3% or 4% in recent years. It's not growing anymore, but it's also not slowing down. What we see is a polarization: luxury brands work very well, and at the same time low cost brands and especially sports fashion are among the ones that are evolving best.
Q.: So, consumption isn't shifting to other categories, it's just repositioning itself within the sector?
A.: Not only in fashion, but in all sectors, there has been talk of the most experiential consumption. It is true that the client is spending more on experiences than on things. When we compare fashion data with other industries we do see that trend, but it is very focused on developed markets. In the United States, Western Europe, Japan, and even in China some percentages of the population are getting tired of using and throwing away. But at the same time, there are other developing countries that are pushing product consumption by a lot.
Q.: Years ago, many brands took positions in emerging markets such as Kazakhstan. What is the market of the future today?
A.: During the past few years, all companies have been moving to China. Countries like China or India are very large markets that continue to be the engine on a global scale. But there are also others who are picking up a lot of speed like Vietnam, Indonesia, Malaysia or the Philippines. In terms of size they are not comparable, but they are very interesting because they are beginning to have significant growth.
"It's going to be a few years until a group can stand up to Inditex, H&M or Nike"
Q.: Will the sector polarize between very large and global companies and small but fast start ups?
A.: The fashion sector is cyclical. The trends are getting faster, shorter, and when there are operators like Inditex or H&M who are able to compete in price in such an aggressive way, those in the middle suffer. Groups like VF or PVH, which are right in the middle, are the ones that are having the worst time. They cannot compete in speed or price. But I don't think you have to be huge or small to function, there are medium-sized companies that have done well, such as North Sails or Anta, in China.
Q.: Sport is the segment that grew the most. What can the Nike or Adidas sector learn?
A.: They are doing a lot of thing well. Firstly, they have a good understanding of the consumer and are positioning themselves very well both in sports, taking advantage of the boom in health and the body care sector, just as in fashion, through collaborations. Not to mention the control they have over their distribution network.
Q.: It seemed as though with the web the middleman was gaining prominence once again, but now Nike has cut ties with Amazon. In the future will all sales be direct-to-consumer?
A.: Adidas or Nike are two brands that have always had a very large percentage of their sales through third parties, however, now they have been cutting this out. Inditex, on the other hand, has been a vertical operator for a lifetime and has transferred a percentage of its sales to ecommerce, via third parties. The future heads more towards that diverse line, because not all clothes can be sold directly. We would have to have stores in every corner.
"Clothing is a product of first necessity; with the crisis, in Europe, we did not stop buying clothes, on the contrary it went to cheaper products"
Q.: It was also said that everything would happen through Amazon. Will it be like this?
A.: No. Amazon already has a very important market share in the distribution of clothing in the United States but, in the end, the purchase of fashion is closely linked to leisure and experience, and brands are taking advantage of it to compete with Amazon. With the new stores, shopping centers and department stores Amazon cannot compete. There will come a point where the growth of the online will stop.
Q.: What will be the limit?
A.: That's the big question. In China it is around 30% and 40%. Climbing beyond 50% in the short term, five years perceived, it seems difficult, especially because large companies are counterattacking the trend in an intelligent way. A large brand is not interested in selling a higher percentage on Amazon or Alibaba because they lose control. Nike has already come out and I wouldn't be surprised if others followed.
Q.: China will outrank the United States as the world's greatest power. Will the next fashion giant also come from China?
A.: Not in the short term. Just as many foreign brands do not do well in China, because they find it difficult to understand the consumer, they do the same. It's going to be a few years
until a group can stand up to Inditex, H&M or Nike.
"It is difficult for ecommerce to exceed 50% in the medium term"
Q.: With the developed markets slowing and the unstable emerging. What is the future of the sector?
A.: Clothing is a product of first necessity. With the crisis, Europe did not stop buying fashion, but it went on to cheaper products. In 2007 and 2008 the sector suffered a little, but quickly grew again. I don't think it can have a huge global impact. It is not a sector especially specific to volatility.
Q.: A recession is coming. Should fashion companies worry?
A.: They should be prepared. It is more a matter of looking back trying to making comparables. If you look at how most of the big companies worked between 2008 and 2013, the impact was not as strong. In fact, many brands were favored by currency movements and the decline in income.
Q.: How can they prepare themselves?
A.: If there is a strong consumption restriction, we will have to rethink cheaper brands and more essential products. People will not stop consuming fashion. Even with 25% unemployment, the Spaniards did not stop buying, but they went to Primark or Mulaya. With a lower consumption you will buy less in volume and much less in value, so you have to think about discounts, rebates ... Although this means sacrificing margin.
"Groups like VF or PVH, which are right in the middle, are the ones that are having the worst time; they cannot compete in speed or price"
Q.: Have we beome too obsessed with millennials?
A.: Yes. It is not the largest generation and not the one with the most money. There has been an excessive use by the media and industry, and the message has been simplified a bit, falling into the topics. To me it seems a mistake to think that millennials are the most relevant generation and that they will save the future of fashion.
Q.: Does the future depend on the baby boomers?
A.: Yes. If you look at the demographic and purchasing power projections, the senior consumer worldwide is huge and has a very powerful purchasing power, but has been ignored. You have to start taking much more into account. Although it is true that they spend less on clothes, today's senior or baby boomer will not be the same within fifteen or twenty years. We would have to start loyalty today.
"The 'senior' or 'baby boomer' of today will not be the same in fifteen or twenty years; We should aligning with them now"
Q.: Will the athleisure bubble burst?
A: Yes. There are two elements. On the one hand, the trend of passion for health and healthy lifestyle will continue to drive sales of sports fashion. Another thing is streetwear, this one, I see it as super cyclical. In fact, there are already some of the big brands that are beginning to take a very strong turn. We start talking about whether athleisure is dying or at least reinventing itself. Brands that have been born in the heat of the streetwear buzz will disappear or become something else. But the big ones that have stayed close to the sport, not so much.
Q.: According to the latest data from Euromonitor, if a fashion company launched today should it be online, in China and in sports fashion?
A.: This is simplifying it a bit to its limit. It would not be an ecommerce, an omnichannel operator would be more interesting. Sports? Perhaps not. It is the category that has grown the most and the most talked about, but the rest of the sector continues to be larger. I would go to an omnichannel operator, in casual clothes and, for not falling into the topic of China, I would prefer to go to another country that is curently exploding.