Juan Núñez (Puerto Banús): "Opening in Puerto Banús is news per se, but without sales brands would not be able to stand"
The general manager of Spanish luxury hub Puerto Banús sustains that there is still room for a bigger development of luxury market in the country.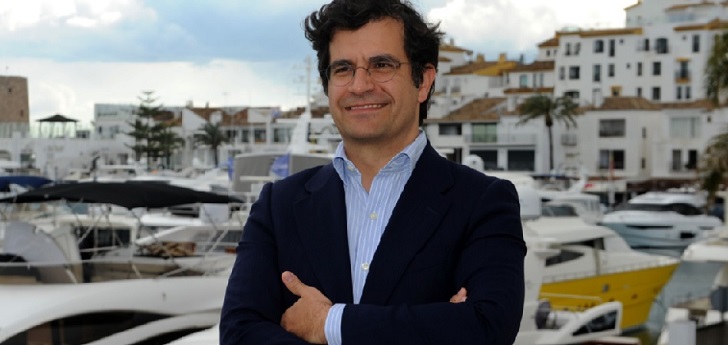 After finishing his first year as the lead of Puerto Banús' management, Juan Núñez continues to be the perpetuator of changes in one of the main touristic and purchasing destinies in Spain. A little more than twelve months ago, the port's owner family decided to professionalise the complex's management to take the biggest profit out of it. According to Núñez, the brand Puerto Banús is a national and international benchmark that must increasingly resort to offer experiences.
Question: Is Puerto Banús' brand going through a good period?
Answer: The brand of Puerto Banús is a national benchmark known around the world, both in Europe as in the Middle East or Russia, as well as other countries in Eastern Europe. The strength of the brand as touristic destiny has caused that many people took advantage of its positioning. We suffer almost daily the abuse of Puerto Banús' destiny as sales to draw attention. Because of that, it is necessary to understand also that Puerto Banús has geographic limitations.
Q.: I understand, then, that the brand is not going through a good time…
A.: Depends on the point of view. It continues being a benchmark, having luxury tourism and a great amount of annual visitants. Sales continue to be good, but we have had smear campaigns against which we are actively fighting.
Q.: Has political or real estate corruption affected the image of Puerto Banús?
A.: More than Puerto Banús, it has affected the whole of Marbella. But that is something more typical of the nineties. My day to day perception, working with institutions, is that we are almost on the other side of the pendulum. There has been so much excess, scandals, and cases of corruption… We are now in a contrary situation, people is careful not to act foolishly, which is a good thing. In any case, bad fame is easy to get but hard to get rid off. The nineties Marbella is still weighing down the present one these days. But that is only my personal intake.
Q.: In Puerto Banús, like in shopping centres, there are two audiences: brands and purchasers. Which one goes first?
A.: They both go hand in hand, but if we have to choose, it would be clients and their experience. If there is no client, there is no brand. Historically, Puerto Banús has had both, good volume and quality. It is because those clients exist that there are brands. If brands would not sell what they do, then they would not be in Puerto Banús paying what they pay.
Q.: Shopping centres are considering more and more every time offering beyond stores experiences to their clients. Is the same thing happening in Puerto Banús?
A.: Exactly the same. We want to combine the current offer with a series of events and experiences throughout the year. This year, for the first time, we will have a Christmas market in the port, in which there will be offers that can not reside in Puerto Banús all year long due to the cost they have or because they are specifically Christmas products. In Puerto Banús there are several passions and thus the people that visit us are attracted to either fashion, cars or sports. We want to define an event calendar for 2019 and 2020, when we will celebrate our fiftieth anniversary, with these sorts of activities beyond purchases and gastronomy. Regattas, old cars contests, car beauty contests, a fashion week… those kinds of initiatives.
"If there is no client, there is no brand; historically, Puerto Banús has had both, good volume and quality"
Q.: Does foreign public push local public away?
A.: Marbella is extraordinarily international. There is a huge community of foreign residents living in Marbella all year long due to the quality of the weather and so on, and they are integrated with the Spanish society. I do not believe there is conflict between one and the other.
Q.: There are stores in Paseo de Gracia in which not even one sales assistant speaks Spanish.
A.: That does not happen here, although it is true that most sales assistant speak at least English, if not more languages still. But there is also a huge proportion who are Spanish. There is a mix between Spanish and foreign. A market that we want to boost and we are attracting to the port in a proactive way is the Chinese one. Chinese tourism in Madrid and Barcelona is very strong and growing, and it is starting to get to Marbella, something that we want to actively promote.
Q.: How does Puerto Banús capture tourism?
A.: We are doing it in the way we believe it is more practical, which is the association of Chinese touristic guides. They are ultimately the ones that decide touristic circuits. But we do not do it from the origin, as for that we would need an unfolding and investment that we do not consider rentable.
Q.: Is there room for luxury in Spain?
A.: I think there is. What I do not know is if there is physical or market room. The luxury market is growing more and more every time, and that is a consequence of the society's polarisation. Middle classes are disappearing, and there is a rich class with more patrimony that spends more by the day. On the other hand, middle classes have less purchasing power, but they want more treats and seek experiences. Perhaps they do not buy the same regarding value, but they want to treat themselves with something of these characteristics perhaps two or three times a year.
Q.: Sometimes, in Barcelona or Madrid, there are openings more based on the showcase effect than on sales. Does that happen in Puerto Banús?
A.: I think that both things happen, because it is true that Puerto Banús is an important spot where to have a flagship. It is news per se to open in Puerto Banús, but if that is not accompanied by sales then brands would not be able to stand, at least local ones. For what some brands share with us, figures go very well and they balance flagship character with investment rentability.
Q.: Are sales seasonal?
A.: Moorings are seasonal, but not as much as one would think. Part of the moorings are used by itinerant people who come with their ships and then leave, but there are also people who have their ownership of boats in Marbella and maintain their mooring all year. There is not as much seasonality as one would believe. Regarding sales activity, there really is a seasonal characteristic because the affluence of public during June, July, August and September is huge, enormous, even though during the rest of the year sales are attractive enough so that 99% of the stores are open the whole year. That is precisely due to Marbella's weather. Furthermore, in other coastal areas there are not resident communities that are that big.