Peter Ruis (Anthropologie): "This are difficult times to be a retailer"
Responsible for the international expansion of Anthropologie since last July, Ruis points out that it is as difficult to compete with Amazon as with Zara and claims that the only way to do it is standing out.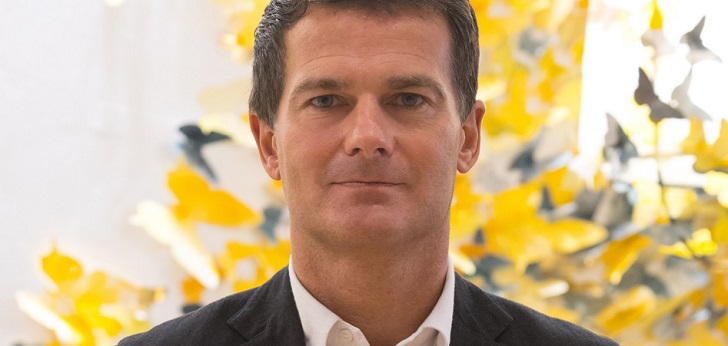 Peter Ruis is the responsible for the international expansion of Antropologie since last July. The manager has in his hands the development of the company, owned by Urban Outfitters, beyond the United States and Canada, where it concentrates the bulk of its business. Its first opening has been in Barcelona, from where the brand started operating in Europe. With a career at John Lewis, Levi Strauss and Jigsaw, Ruis underlines that these are challenging times for a sector that has to deal with a market with excessive supply in a digitalized environment and a scenario full of political and economic uncertainty.
Question: Until recently, the group has been very focused on its local market. Is it difficult to export this business model?
Answer: In all the places where we are established, also in the United States, we must look for local sensitivity. We have a creative team in our offices in London to bring the brand closer to European design, and we also look for collaborations with local artisans or designers. The interesting thing about Anthropologie is that we do not depend on a single category of product.
Q.: Better to diversify than to specialize?
A.: Zara, for example, only sells fashion. But here, for those who do not look for fashion, there is also furniture and even cups. We want to do things for many different people, aimed at those who have a Scandinavian style, minimalist, oversized and over forty, but also for young people who are looking for trends. All this, in short, is what makes it an easier model to export.
"In this technological transformation, if you want to be a global business, you have to be everywhere with the best locations"
Q.: In a digitized environment, how has international expansion in retail changed?
A.: In this technological transformation, if you want to be a global business, you have to be everywhere with the best locations, have click&collect service, be able to sell online from stores. The same products that we have in store are online, with the complexity that every week we have new products and the store changes completely every four or five weeks.
Q.: With the retail Apocalypse hitting the United States, do US retailers need to accelerate their international expansion?
A.: There are two important things that are happening now in the retail world, and not only in the United States. In the first place, the first world economies have too many stores and too much supply. Twenty years ago there could be a million brands, but now the offer is endless. How many brands can there be in the world? Fifty million? Second, society becomes online and, since the last crisis, it learns to live in an environment of uncertainty. These are difficult times to be a retailer. But if you are good at it and you have an authentic concept you can survive. In addition, now the costs continue to be high, but will tend to fall, as it will be the case in the pricing of commercial rentals.
Q.: Do you foresee a strong jolt in the fashion trade sector?
A.: Every ten or fifteen years there is a jolt. In part, it is generational. Millennials, generation Z, they do not speak the same language as generation X. The retail industry must be constantly reinventing itself and, in fact, the good companies are precisely those that are constantly reinventing themselves.
"Retail must be constantly reinventing itself and, in fact, the good companies are those that are constantly reinventing themselves"
Q.: The experiential store is spoken of to conquer the consumer. What does it consist of?
A.: In being honest with what one is. If you are Nike or Adidas, for example, you can have large screens in your store with Messi or Ronaldo and a lot of technology, but the others do not have to copy it. It would not make sense, for example, for us to incorporate it. Even Zara has its own store concept, always in white, with clean spaces.
Q.: Is it now getting more difficult to attract people to stores?
A.: In a digital world, there is also a preference for going out and touching and telling experiences. Maybe it's kind of old-fashioned to have a coffee. You can buy a pack of coffee and do it at home and take it with friends, but there are still a lot of people who prefer to take it outside. Obviously, because of our lifestyle, we do not almost have time. How long are we in a store? Ten, fifteen minutes? We want customers to be here at least one hour!
Q.: Are you afraid of Amazon?
A.: I think we can coexist. They do it very well, but they are not a fashion brand, we do not have the same DNA. Their great value is that they make it easy, but nobody says "I'm going to buy a dress from Amazon." It's the same as competing against Zara. The only way is to be different.
"An experiential store is about being honest with what you are"
Q.: You set up in Barcelona very close to Zara, Uniqlo and H&M. Do you consider them competitors?
A.: The brand goes both ways on Paseo de Gracia, down, where Zara and H&M are, but also upwards. Everyone can buy something in Anthropologie, we like to be premium, but we also want to be a place where everyone feels comfortable. In the store you can buy from a greeting card for two or three euros to a sofa for 300 euros. We try to cover all ranges.
Q.: Spain is the cradle of fast fashion. Were you wary of this when entering?
A.: Spain had a difficult crisis in 2008 and, in this context, the leadership that Inditex has in the country makes sense. But now, economically, the country is strong again, and we see opportunities in it. And I also think that what we do is different from what Zara does. In the end, in all countries it is difficult to enter and all of them are in themselves a challenge. It is difficult to open in New York and Milan. But I think if you're good at what you do, people recognise it.
Q.: They have been located in a tourist location of Barcelona. Are you also looking for this consumer?
A.: We love tourists, and we like to be in tourist spots. We learn from them all over the world. We decided to open in Spain because the Spanish were the main foreign buyers in our stores in London. People know us in the United States, and they like to see us in Europe. On the other hand, we also need high street traffic.