Sportswear giants initiate World Cup battle: 1.3 billion euros jersey sales are at stake
Nike, Adidas and Puma, the main equipment suppliers for the 32 national teams participating in this year's competition, plan to accelerate their growth in 2018, boosted by the sale of football category items, as happened in 2014.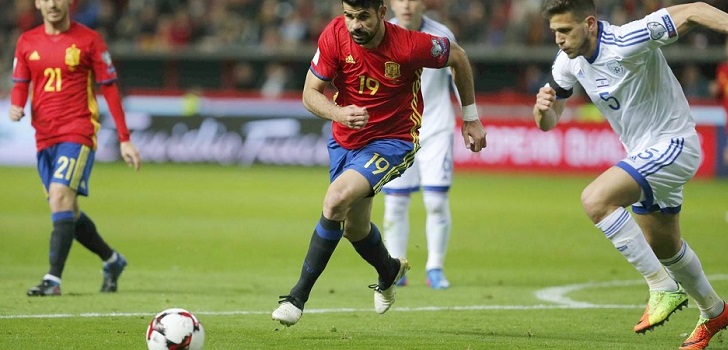 Sportswear giants warm up for World Cup business. Nike, Adidas and Puma, the main equipment suppliers for the 32 teams competing in Russia this year, hope to repeat the sales boom in this category that they experienced in 2014. For this reason, groups have a new asset that plays in favor: the romance between fashion and sport.
Jerseys worn by national teams are the bestsellers among sporting-goods manufacturers before, during and after the World Cup. This year, 14.9 million team jerseys will be sold within the 32 participating countries, compared to 17.7 million sold during the tournament in Brazil in 2014, according to data from soccer consultant PR Marketing collected by Bloomberg.
Using the figures released by PR Marketing, and taking into account that jerseys from any national team have an average price of 90 euros, the World Cup in Russia will translate into product sales as high as 1.3 billion euros.
32 teams will participate in this year's World Cup, which will generate less jersey sales than in 2014
Besides jerseys, products such as soccer boots, scarves and all kinds of accessories featuring national flags will go with tournament supporters to bars and open broadcasts in public spaces. All this makes the World Cup a juicy business.
World Cup: Nike and Adidas, at the top of the soccer wave
Four years ago, the Brazil World Cup already leveraged growth among sportswear groups. Adidas reported in 2014 a 20% increase in football sales at constant exchange rates, up to 2.1 billion euros, a new record. The rise exceeded the company's expectations, according to Adidas annual report for the fiscal year.
Adidas had nine deals with national teams in the tournament, one less than its competitor Nike: Germany, Spain, Argentina, Russia, Mexico, Colombia and Japan. The German company highlights on several occasions throughout the 2014 annual report that football and running were the categories that drove growth in regions such as Western Europe.
Adidas sales increased in this region by 8.9% in 2014, up to 4.1 billion euros. The growth pace was higher than the one registered worldwide (2.3% year-on-year). During 2014, Adidas sold, for example, three million jerseys of the German team, which won the World Cup that year.
Adidas football sales rose 20% in 2014, to exceed 2.1 billion euros
Nike, on the other hand, also experienced a business boom during the previous World Cup year. According to the company's 2014 annual report, the tournament led to an exponential increase in administrative expenses, creation and product, especially in marketing and sponsorship initiatives.
Nike football wholesale sales rose 17.6% in 2014 compared to the previous year, to 2.27 billion dollars (1.9 billion euros, at current exchange rates). The increase was much higher than that registered in 2013, which was 3.7%, to 1.9 billion dollars (1.6 billion euros).
The Oregon-based retailer closed deals with ten national teams, including Brazil, England, France, Portugal, the Netherlands and the United States. Nike constantly links football and running as growth engines in categories such as clothing, in regions such as Western Europe.
Nike posted 2.2 billion dollars in wholesale revenues only with football in 2014, up 17.6% from the previous year
Nike's turnover in Western Europe soared 18.7% in 2014 to 4.97 billion dollars (4.3 billion euros). The region led the growth of the company throughout the world, followed by Central and Eastern Europe, where the increase stood at 12.9%.
The World Cup positive was less noticeable for Puma. The company had deals with eight national teams, such as the Italian, the Chilean, the Swiss or the Uruguayan one. All of them played in half of all the matches disputed.
Company sales in 2014 stagnated at 3.17 billion euros. Despite this, and without taking into currency headwinds, the company benefited from sales of products linked to the World Cup such as clothing and accessories, which grew by 6.8% and 7.9%, respectively.
Russia World Cup: the biggest team sponsors
Unlike in 2014, Adidas is crowned in this year's World Cup as the brand with the largest number of sponsored teams, twelve in total and among them the favourites to win the tournament: Argentina, Belgium, Colombia, Egypt, Germany, Iran, Japan, Mexico, Morocco, Russia, Spain and Sweden.
Archrival Nike would keep alliances with ten national teams: Australia, Brazil, Croatia, England, France, Nigeria, Poland, Portugal, Saudi Arabia and South Korea. Puma is the biggest loser in the battle for football sponsorships during World Cup: the German company moves from eight sponsored teams in 2014 to just three contenders for the competition in Brazil. The fact that Italy didn't qualified in the competition leaves the brand with Switzerland, Senegal and Uruguay as the only teams.
New Balance, on the other hand, will provide equipment for the Costa Rica and Panama national teams, while Umbro closed sponsorship deals with Peru and Serbia. Eventually, Hummel will sponsor the Danish national team and Uhlsport will keep the Tunisian one.
Sportswear sneaks into the catwalk
Along with worldwide sport tournaments that take place on a regular basis, athleisure (the use of sportswear in leisure contexts far away from fitness studios) has been the key growth driver in the sports and fashion industry in recent years. Streets have been filled tracksuits, running shoes and athletic-inspired clothing. Besides, last year soccer pieces caught the interest of fashion designers.
In 2018, luxury companies such as Versace and Burberry have introduced iconic soccer pieces into their collections, in a clear nod to the World Cup. Independent brands such as Off-White, whose founder, Virgil Abloh, was recently hired as men's new artistic director at Louis Vuitton, have also embraced this trend.
Versace, Burberry and Off-White introduced soccer-inspired clothing and accessories in their collections for 2018
Concurrently, streetwear labels with a loyal and global follower base, such as Palace Skateboards or Supreme, owned by The Carlyle Group, have also joined the football fever with their own shirts. Urban Outfitters and historical brands in full revival, such as the Italian Umbro, also have their own models.
The rise of football-inspired clothing in streets, among consumers who devotedly follow runway trends, coupled with a peak in sales among football supporters, pave the way for a golden fiscal year among sportswear juggernauts.