Technology and sustainability in Asics' first generation of accelerated startups
The group has introduced this morning in Barcelona the five finalists to join Tenkan-Ten, the company's accelerator program for growth stage startups, which was announced last March.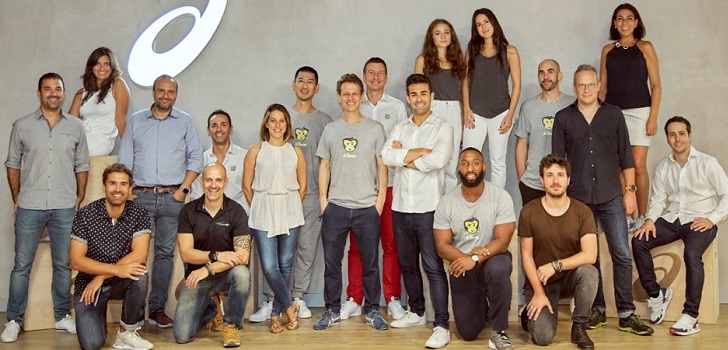 From capturing movement with a smartphone's camera to sustainable fabrics. These are some of the innovation fields of the five companies selected by Asics to take part in Tenkan-Ten, its accelerator program for startups introduced last March. The Japanese group has presented both the businesses and its founders during an event this morning in Barcelona.
Runnin' City, Curv, A-Champs, Entrenarme y Pyratex are the five startups that will receive a 30,000 euros investment each from Asics in form of a convertible loan, as explained by Daniel Dumig, new business and innovation manager for Europa, Middle East and Africa.
Each of the selected companies focuses on a different activity. French startup Runnin' City offers an app with GPS for runners who aim to discover new places in cities as they on the go.
Asics will invest in each startup 30,000 euros in form of convertible loan
Curv uses Artificial Inteligence and 3D. The company, founded by Shea Balish, enables to capture movements through a smartphone camera so that athletes could later analize and measure their performance. A-Champs, an American-based startup, has created a game system based on luminous and voice activated devices that aims to encourage physical activity among children.
Spanish-born app Entrenarme connects people who want to do fitness with coaches and gyms so that they can find the most suitable routine and center. Pyratex, founded in Switzerland by Regina Polanco, manufactures sportswear and sustainable fabrics. The raw material of its fibers are proteins of agricultural vegetation.
During their four-month stay within the Asics Innovation Hub, the start ups and their teams will receive advice from professionals to develop new business strategies and access to a network of contacts in the sector. The teams will work on the first floor of Asics' head office in Barcelona.
Runnin' City, Curv, A-Champs, Entrenarme y Pyratex are the five startups selected by Asics for Tenkan-Ten
Asics ended the first quarter of fiscal 2018 with sales of 104.6 billion yen (807.2 million euros), 7.4% less than in the same period of the previous year. In Europe, on the contrary, the group posted a sales surge of 3.7%. Net profit worldwide shrunk to 7.4 billion yen (57.1 million euros), down 47.2%.
As of December 31, 2017, the company had 876 stores globally. Last year, Asics opened its largest flagship store worldwide in London's Regent Street.