What is TikTok? The new social network to conquer Gen Z
Experts state that this is the moment to enter this platform, even if it's still not very developed as a marketing tool, because it has a higher ROI than its competitors.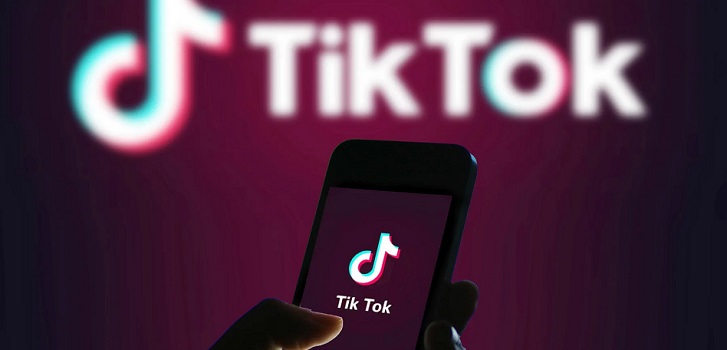 No sunsets, no fancy restaurants or sophisticated tutorials. In TikTok, everything is at the speed of Gen Z: fast, fun, spontaneous. This is the new language that fashion brands will have to learn if they want to reach this desirable and inaccessible generation: those that, despite not having their own money yet, have something much more valuable online: influence.
Beijing-based ByteDance group launched TikTok in 2016 under the name of Douyin. A year later, the app changed to its current name and started its international expansion, becoming the most downloaded app in the United States in 2018.
In just two years, and with a short video format of only fifteen seconds, TikTok has become one of the fastest growing social networks in the world, with one billion downloads in 150 markets and 75 languages ​​around the world.
ChupaChups, Disney or Gymshark, a sportswear company, are some of the brands that have already advertised on TikTok
There lies one of its advantages for its potential advertisers: while other networks like WeChat or Weibo have a great penetration in China but are barely used outside the Asian giant, TikTok has managed to become global. The secret? That its main content is musical, a language that travels specially well because it doesn't need translation.
The company is led by Zhang Yiming, a former Microsoft engineer and entrepreneur, for whom achieving global impact was always a priority goal. After TikTok, Zhang has also launched apps like Toutiao, which uses artificial intelligence to provide personalized news to each user.
The boom came in 2017, just a year after its birth, when ByteDance paid around 900 million dollars to acquire Musical.ly, a social app, also specialized in music and with great penetration in the United States.
About 66% of the 'tiktokers' are under thirty
Tiktoker scan
It is estimated that around 500 million people use TikTok every month worldwide, twice as many active users as defunct video app Vine at its peak. Instagram took six years to reach that volume, according to data collected by the influencers marketing agency MediaKix. After acquiring Musical.ly, TikTok has triggered its penetration in the United States, reaching 26.5 million active users in the country, 5% of the platform's total user base.
About 66% of the tiktokers are under thirty years old and, in the United States, 41% are between 15 and 24 years old. They are digital natives: they were born with a smartphone and this determines each interaction they perform on the Internet.
This causes, for example, that each user spends on TikTok 52 minutes per day on average, beating other social networks like Twitter or WhatsApp. Each session lasts, on average, 9.7 minutes, well above the 4.7 of Facebook, the 3.1 of Instagram or the 1.6 of Snapchat.
"It is aimed at generations that rely heavily on social networks and use technology since they were born; for them, it is a new form of communication that they complement with YouTube or Instagram," says Mandy Hu, a marketing professor at the Chinese University of Hong Kong.
"Although they still do not have spending power, these generations are defining a new language that, as with Facebook or Instagram, will also end up reaching the older generations," says the professor; "that's why you have to be there."
TikTok users spend more time on the platform than on other social networks like Instagram
Content and influencers
The content of TikTok is only video, and most experts agree that it is more "fresh" and "authentic" than on other platforms. "Most publications are divided into three types: interpretation, transitions and singing," explains Fernando Cerro, head of Spanish agency Influencialia.
This is why the majority of brands that are betting on this app to advertise are audiovisual, use TikTok to promote a specific movie or record. Disney is one of them. But it has also been used by several consumer-goods companies such as Chupa Chups or CocaCola.
Influential tiktotkers have between one million and ten million fans, but a high engagement rate. "They are very faithful and very egaged communities: when a tiktoker jumps to Instagram, for example, he usually has much more engagement than those born on the platform," says Cano.
TikTok videos usually include challenges, songs or reactions
Invest or not to invest, that's the question
Most experts agree that now is the right time to invest in TikTok marketing. "You definitely have to start now, now is when there is a higher ROI," says Rohan Midha, managing director of the marketing agency Pmyb, one of the pioneers in working with TikTok.
"The investment is similar to that of Instagram or Snapchat, but it's worth it- says Majid Bahi, CEO of Socially Powerful Media-; It is not seen as a commercial platform yet."
At the moment, TikTok does not allow to insert external links, as does Instagram, so to measure the return on investment the agencies resort to other formulas, like the number swipes up or with discount codes.
The most common tool to promote on TikTok is through a 360 campaign: create a hasthtag and hire several influencers to promote it on the platform. This is the case, for example, of Gymshark, a British company specialized in sportswear that launched the hashtag #gymshark66, in which it encouraged its followers to sing or dance wearing the brand's products to promote their program "change your life in 66 days."
Together with influencers like the Wilking Sisters, with 1.1 million followers, or Rybka Twins, that have 5.2 million fans, the campaign had a total impact of 19.8 million people on TikTok, according to Mediakix.
TikTok is also very permeable to other social networks, and many of the influencers on this platform, known as tiktokers, make the leap later to Instagram or YouTube, increasing the impact of TikTok campaigns. "You want to be across the different touchpoints; repetition is key," says Bahi.
The contents of TikTok become viral very quicklyon and off the platform thanks to its format, less than thirty seconds, and the use of hashtags. "Hashtags help you grow very fast on the platform, but the type of content is also very demanding, it has to be really impressive to stand out in the middle of the noise," says Rohan Midha, managing director of Pmyb.
"If you decide to invest in TikTok, which at the moment is more expensive than other platforms, you have to do something really creative," says Midha, who estimates at 15,000 euros is the minimum investment to make a great campaign on the platform. "By not having influencers as big as Instagram, it is important to find people who are really influential and hire several of them," says the expert.
Another option, although still less exploited, is to create your own profile for the brand. "It's a slightly more personal network, so it's a bit complicated, but there are already brands in the United States that are doing it," says Cerro.
The success of TikTok has motivated the birth of other competitors in recent years such as the Chinese app Kuaishou or Lasso, foundedby Facebook to reach a younger generation.