Abercrombie to changes flagships for small stores to explore the omnichannel
The US company opts for smaller establishments, with lower operating costs and greater capacity to link them to ecommerce.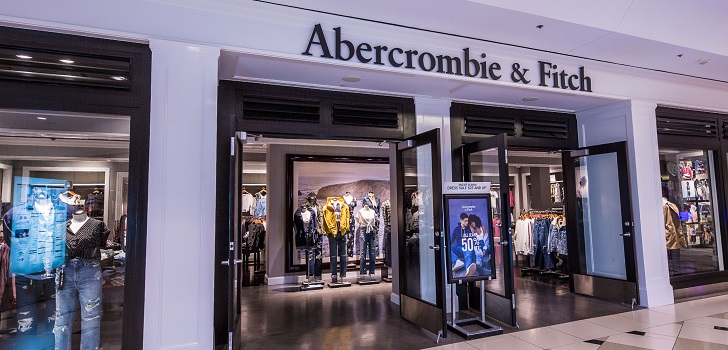 Abercrombie & Fitch redefines its store network. The US group has defined a new retail strategy to take greater advantage of the possibilities of omnichannel, after its online business over the last year exceeded the barrier of one billion dollars.

The company is immersed in a deep reordering of its network of stores, leaving behind the strategy of opening flagship stores, that is to say, shops with a large commercial surface in prime locations, to other points of sale of smaller dimensions with which to explore the options of omnichannel, according to WWD.

In this sense, the new retail strategy of Abercrombie & Fitch is to open new stores taking into account issues such as online shopping, pick up in store or order from store.
The vice president and group finance chief, Scott Lipesky, explained at the shareholders' meeting held this week that the stores are a part of the brand's legacy, but that they are currently obsolete and do not correspond to the image that the firm is looking to transmit.
The company closed its flagship in Copenhagen this year and is looking to open others in New York, Italy and Japan


According to Lipesky, small stores not only make more financial sense, but having a lower supply also facilitates customer service, improving efficiency in operations and also allowing faster purchases.

As part of this change of direction, Abercrombie & Fitch closed its flagship in Hong Kong in 2017 and, last March, its store in Copenhagen (Denmark). Also this year, the group has announced the closure of its Hollister flagships in Manhattan, and its stores in Milan and Fukoka (Japan).

These closures are added to the more than 500 closures that the company has executed throughout this decade, most of them in malls in the United States, as the traffic on the offline side went down.

Abercrombie & Fitch ended 2018 by seven times its net profit, which stood at 78.8 million dollars (69.6 million euros). The company's sales grew by 3% up to 3,590.1 million dollars (3,195.4 million euros).