Adidas shots up profit by 45% in 2018 and registered revenue of 1.7 billion euros
The German group had a revenue of 21.91 billion euros, a 3% rise, attributed to the growth in Asia and North America. The profit increased due to a greater impact of taxation.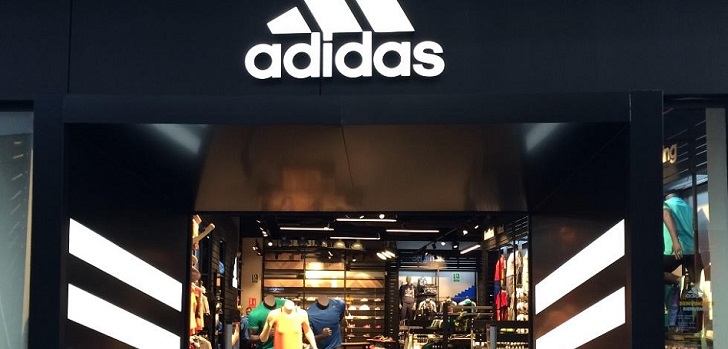 Adidas continues on the path of growth in 2018. The sports fashion an equipment group obtained sales valued in 21.91 billion euros, an increase of 3% compared to the previous year. Eliminating the impact of currency fluctuations, the increase in sales would be of 8%. Profit skyrocketed 45% in the same period, to 1.7 billion euros due to the negative impact that the fiscal reform implemented by Donald Trump in 2017 had on its economic balance.
By regions, the company managed to grow in its two main markets. Sales in North America increased by 10% to 4.68 billion euros, while in Asia-Pacific they increased by 12% to 7.14 billion euros. The rise was especially high in China, with an increase of 23% in its revenue.
However, sales in the rest of its main markets fell during last year. In Europe, the group lost 1% in sales volume, up to 5.88 billion euros, and in Latin America they drop to 14%, standing at 1.63 billion euros. The group's revenue also fell in emerging countries by 12% to 1.44 billion euros.
Sales grew in North America and Asia, but drop in Europe, Latin America and other emerging countries
"Our efforts have been reflected in the economic balance of 2018, in which we have achieved record sales and improved investments in our brands controlling all our costs, resulting in a six times faster profit grow this year," said Kasper Rorsted, CEO of Adidas.
By segments, footwear was confirmed as the leading sector of the company, with 12.78 million euros in sales, an increase of 3% in comparison to 2017. However, sports equipment was the area with the highest growth rate, with a rise of 6% and sales of 8.22 million euros.
On the other hand, its cash position doubled in the last twelve months, to 959 million euros, which means that Adidas has a greater economic muscle to make investments in 2019.
Footwear led the revenue of the company, although the sector that grew the most was sports equipment
In this year, Adidas expects its sales to grow between 5% and 8%, although a drop in consumption of US customers is expected, which will have a direct impact on its income, especially during the first half of the year.
Adidas has more than 2,300 physical stores and another 14,000 that are focused on a particular sector of the brand (such as the ones of teams like Real Madrid). In addition, the company is present in more than 150,000 points of sale and expects to continue strengthening its e-commerce strategy, which reaches more than 40 countries.