Amandine Ohayon (Pronovias): "Innovation doesn't mean letting the past go"
The American and the Chinese markets are very important for the company but its headquarters will remain in Spain, according to the group's CEO.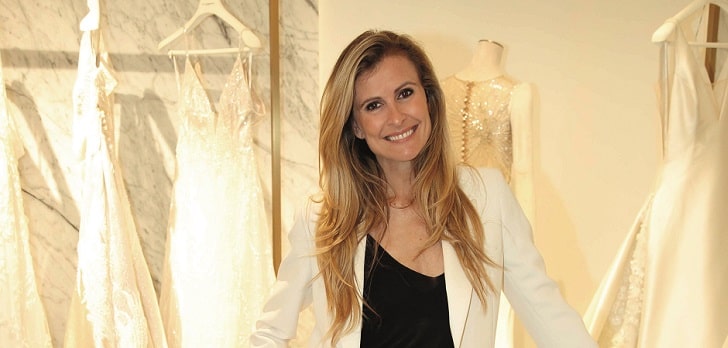 Head to toe in a white suit, Amandine Ohayon states that since she was little she wanted to work in luxury. In fact, her first job was as a sales assistant in Celine. Born in Paris, the executive has been in Pronovias, one of the leaders of bridal wear, for seventeen months. Ohayon, signed by BC Partners (owners of the group), is leading the transformation of the company betting for innovation but respecting its DNA. The United States and China are the two key markets for the group. "We are at the place where we can invest in infrastructure in the countries where we really want to grow", stated the executive.
Bridal wear is one of most special sectors of the industry. How was it to switch from luxury and cosmetics?
It has been a very exciting change indeed. I was born in Paris and I have always been fascinated by luxury and fashion. I started working at Celine when I was 16 and then I worked at Christian Lacroix, in New York. For me, that was the foundation of my career. Then, I went back to France and started to work at the world of beauty and fragrance. It's been a fantastic 17 years' journey. Then, this opportunity came along and at the beginning I was surprised. I knew Pronovias, but it's very different from what I was doing. I started to do my research and I was so amazed by the company itself and by the industry. It's such an incredible industry: this ability to make women happy with the dresses, it's exciting. It was at the tipping point where it was transforming from a quite a conservative, slow based industry, into something that is more fast-paced, more driven by the consumer, into digitalization. I could feel that it was going through a rapid transformation and been at the helm of the leader, being able to drive that transformation, it's such an exciting challenge. Now, I've been in the job for sixteen months and it's beyond my expectations.
The bridal fashion industry makes the same effort in marketing than the rest of the sector but to conquer a woman that it's only going to be your client once…
I don't see it that way: because it's one customer, but then she probably has like twenty friends at the same time. So I think she is a very powerful women and she can influence a lot. If you marry in a Pronovias dress, it's such an important moment of your life, the most important dress that you ever bought in your life. We've completely changed our occasion wear, it used to be Pronovias Fiesta, now it's Party Edit, in order to have an international name, but also this idea of the Edit means you are selecting some key pieces. We are offering this edit to all our brides so they can recreate the experience and the happiness. It's working, because since the launch of the collection we are double digit up on occasion wear. So this strategy of creating that journey with the customer and recreating those happy Pronovias moments, it's what we've been focusing on. The customer is one, but she's a future customer as well. A woman has many moments in her life: whether it's an anniversary, an important birthday, her sister getting married, or whether they are marrying their son or their daughter.
You have just rearranged the design team with new talents and none of them come from inside the company, why?
They're all new talents but it is still very important that each of those talents partner with a person that has a strong DNA of the company. Innovation doesn't mean letting the past go, on the contrary, we need to develop the strengths of our DNA but also to reinterpret it.
You recently sealed an alliance with Zac Posen, are you planning more collaborations like Pronovias did in the past?
For us this type of collaborations are great because we are passionate about innovation, we think that it come in many forms: you can have it in-house but also you can have collaborations with people with a different background, so we are always open to new collaborations.
Zac Posen comes from New York and the United States is one of your key markets...
Yes, our North American market has been a key focus and the first thing that I did when arrive. I was here, and the week after I was on a plane to New York. I visited probably six states in five days. The United States is a top priority, and it's our second year of double-digit growth in this market. So the focus is paying off. I really believe that to crack this market you need to have a multichannel strategy. We'll be strengthening our relationship with our wholesale partners but also bringing own stores. When we look at the bridal market, is very rare that a brand is able to succeed outside its domestic market. I think we are at the place where we can invest in infrastructure in the countries where we really want to expand, with local teams, to accelerate our growth. And that's really the difference with the past, when we tried to expand in the United States but we never had this strong local presence to be able to activate the market.
In the United States the main actors in the bridal fashion are like supermarkets, are you going to change your business model to adapt to the country?
Is the same like in fashion, if you want to buy something at a cheap price, you can, if you want to buy something that is crafted, with luxury, you can as well. I think the bridal market is no exception. You have players that are entry in the market, which for me is David's Bridal, you've got players that are offering a luxury good, and that's the market where we're playing. So I totally respect what David's Bridal is doing, but this is not our market. And in the United States there is a very large scope.
Are you going to position Pronovias as a luxury group also in Spain?
For me, in Spain the brand is already a luxury brand. We need to bring up our game, because the luxury industry has been really active in the past, so there's still work we need to do at the Spanish market to reach that level. We're not targeting to be the super mega expensive, because that's not who we are. The beauty of Pronovias is that is able to bring that mid-level range to the market, not entry, but we are not ridiculously expensive, and that's what we want, that's been our positioning and we're not going to change that.
Are you bringing luxury practises to Pronovia?
The bridal industry is unique and I am not trying to copy and paste the model. But I feel that when you're buying probably one of the most expensive dresses of your life it's a luxury dress, because you're going to wear it once. So there is no choice, you have to play according to a luxury business model.
In Europe you are growing with acquisitions, are you going to continue this strategy?
We are always looking at acquisitions but it has to be complimentary to our portfolio. The idea is not to buy something that is very similar to what we have, it has to be something new. t's based on business sense and in opportunities.
Pronovias is becoming more and more international every time. Are you planning to move the headquarters out of Spain?
Barcelona is the epicenter of the bridal world. This is the DNA of Pronovias and we're very proud of it. Plus, I just bought a flat, so I don't intend to move anywhere.
And the fashion show?
We are keeping it in Barcelona, we are already working on the next one.
"The beauty about bridal is that is very stable"
Bridal fashion is a niche market that grows slowly. What role does diversification play?
There are a lot of business that don't grow, they go down, so I see the market being so niche as a good thing. The beauty about bridal is that is very stable, you have some brands that go very high, and then they crash in two or three years. For me the way to accelerate is to activate our portfolio of brands. Because we've got five distinct brands, with five distinct positioning and five different price points, you can really target all the brides around the world. A given brand will be more popular in the United States and then other might be more popular in Europe. And I think the mistake is to want to give everything to everyone, you need to keep your identity. And keeping this identity has to come from the start, which is a creative process.
You have mentioned that to be successful in the United States you need a multichannel strategy. What about digitalization?
Bridal is one of the industries that it's still internet resistant. Why? Because there's still that magic: going to the store, trying on the dress. Unfortunately, online doesn't allow to recreate it this moment. I am not saying it will not happen on the future, and of course we're already working towards that. Digitalization can help enhance woman; I see it more like an enhancer rather than ecommerce.
What are the future markets for bridal fashion?
China is definitely a big opportunity. As you know, the Chinese customer is the number one luxury customer in the world. Why is it so important for bridal? Because those millennials come from the one child policy, so what this means, is that for their family is probably the only wedding they're going to have. This means that when it happens, they're going to spend a lot of money. Also, Chinese millennials and Chinese luxury consumers are more and more influenced by Western consumers and labels, especially European labels. And also they're trying to break away from the tradition that was very important for their parents. The result is that they spend much more money than Westerners on bridal. Just to give you an idea, they would spend 1,5 their average salary, whilst in the US is only 50%.
Are big retailers a threat for bridal fashion?
If you want to buy a fast fashion item, fine. I love Zara, I think it's great, but there are moments when you might want something more special. I don't see this as a big threat, there are two different markets. We're targeting different customers with a different value proposition.
A key factor for fashion today is sustainability, how sustainable is it to buy a dress that you will only use once?
Sustainability and more importantly social responsibility is a very important topic and something that's very valuable for the company. We've got an initiative that's called #happyworld, which was created a year ago. We are really committed to making significant improvements. It started by eliminating as much as possible the plastic, we're doing it step by step. The will be some interesting news in the 2020-year collection, some things that will be done different. It's not easy, but it's a very important for us.