Hugo Boss holds its own: gains only 2% more in 2018 and grows by 2.3%
The German company closed the year with a revenue of 2.79 billion euros, boosted by sales in its online platform, which exceeded one 100 million euros.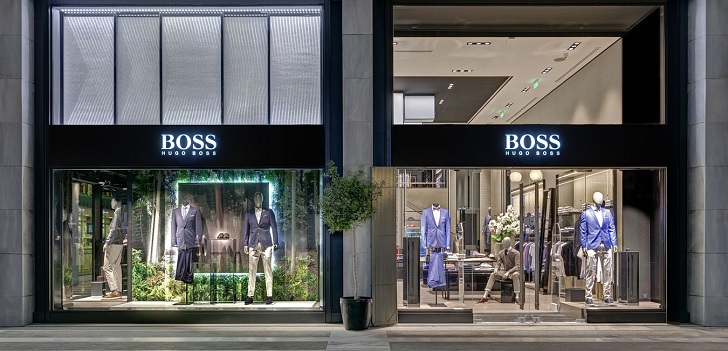 Hugo Boss holds its own in 2018. The German luxury company closed the last fiscal year (ended on December 31) with a net profit of 236 million euros, 2.1% more than in 2017. The group explained that its result has been affected by a number of investments to guarantee the sustainable growth of the group.
The company's sales grew by 2.3% in 2018, to 2.79 billion euros. Hugo Boss' ebitda stood at 489 million euros, 0.4% less than in 2017.
By regions, Asia-Pacific is where the group has registered a better evolution of its income, with an increase of 3.5%, up to 410 million euros. Meanwhile, in Europe, Hugo Boss' revenue had a similar performance, with a rise of 3.2%, to 1.73 billion euros. On the other hand, the group's sales in America decreased, with a fall of 0.5%, to 574 million euros.
Hugo Boss closed 2018 with a fall of 0.4% in its ebitda
By distribution channels, Hugo Boss improved its retail revenue by 2%, to 1.76 billion euros. Within this division is included the online business of the group, which fostered its sales by 40% in 2018, to 110 million euros. The group's own stores, however, reduced its revenue by 0.6%, to 1.09 billion euros. Sales at Hugo Boss' outlet stores grew by 2.1%, to 562 million euros.
The wholesale business of Hugo Boss rose by 3.2% in 2018, to 952 million euros, while the license business of the group reduced its revenue by 3.8%, to 76 million euros in the last fiscal year.
By brands, Boss achieved a growth of 3.6% in 2018, to 2.42 billion euros, while the brand Hugo drop by 5.7% its revenue in the same period, to 374 million euros.
After publishing the results, the company has drawn up a new roadmap until 2022 based on establishing itself as a global premium brand. In addition, the group expects to record an annual growth of between 5% and 7%. Specifically, Hugo Boss plans to continue boosting its e-commerce platform sales, improving the revenue in its own stores, strengthening its growth in the Asia-Pacific region and redirecting the sales of the Hugo brand.