Latin American fashion paves its way into Europe: Colombian Cueros Vélez and Studio F plan openings
The Colombian companies are planning to enter Spain through retail and with partnerships with department stores like El Corte Inglés.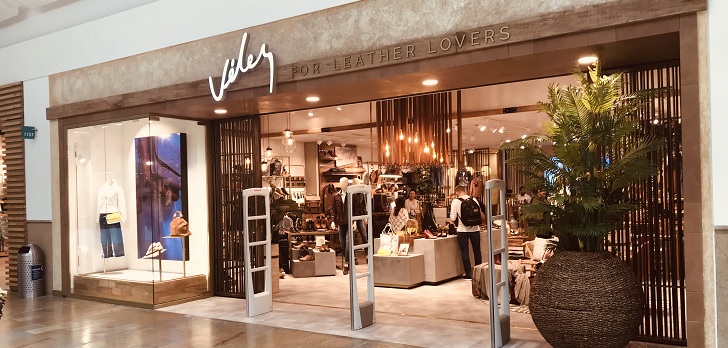 Latin American fashion makes its way into the European market. The Colombian fashion group Studio F and leather goods specialist Cueros Vélez, two of the largest retailers in its local market, have begun negotiations to land in the Spanish market, which would mean landing in Europe for both companies.
Until now, Latin American fashion companies have mostly focused their international expansion within the region, with some exceptions like Havaianas, the footwear company owned by the Argentinian group Alpargatas, or Totto, specialized in backpacks. For their approach to the European market, the natural first step is Spain, close in culture and language to their country of origin.
Colombian company Studio F, one of the largest fashion retailers in the country and with over 430 points of sale in Latin America in eight Latin American countries, plans to enter the Old Continent with an investment of 8 million euros.
STF Group, owner of the brand, ended its fiscal year 2018 with revenues of more than 250 million euros and more than 13 million garments sold. In addition to Studio F, specialized in womenswear at medium prices, the group also owns with Ela and Top One chains.
"We want to move from being a multilatin company to a global fashion company," explained to Mds the head Studio F in Spain, Juan Aristizabal. "In Spain, local groups, such as Inditex, are also global: instead of fashion coming from Europe, we want to bring fashion to Europe," he adds.
Studio F expects to reach a revenue of 40 million euros in three years
A year ago began studying its arrival in the Spanish market. Next year, the company will open a subsidiary in the country and begins its development plan.
Studio F will combine four channels in its development in the market: directly operated stores, concesions in El Corte Inglés, multibrand and ecommerce.
The first directly operated stores will arrive at the end of 2020, and the company is already looking for opportunities both in shopping malls and on the main street, working with real estate agents. In Madrid, the Colombian company is looking at streets like Fuencarral, Gran Vía and Preciados, while in Barcelona it opts for Rambla Catalunya and Pelai Street.
"We want to move from being a multilatin company to a global fashion company," explains Juan Aristizabal
The strategic plan designed by the group includes a revenue of 40 million euros in three years. During this period, the company plans to have a store network of forty corners in El Corte Inglés and 18 directly operated stores in Spain. Instead of competing with Spanish retailer giants like Zara or Mango, Studio F will bet on positioning itself in Spain in a higher segment and focusing on denim as a differential element. Its prices will have a range from 59.90 euros to 89.90 euros.
Studio F does not plan to adapt its collections to European styles or its patterns to European physiognomy, but will have its entire offer in the country, "with denim as the backbone." The company will adapt its collections to climatic differences with Colombia. Studio F also has an offer for men and children, which for the moment will not be introduced in the country. The company, which produces between Latin America and Asia, centralizes its logistics in Colombia, from where it will distribute to Spain. However, the company doesn't rule out moving some of its production to Spain.
The company will land in the Spanish market with its womenswear offer
Structure
Based in Medellín, Colombia, STF Group generates more than 5,000 direct jobs and currently has operations in Colombia, Chile, Ecuador, Peru, Costa Rica, Guatemala, Panama and Mexico. In its headquarters, which has more than 25,000 square meters, the company has a warehouse, textile laboratory, sewing workshop and distribution center with the capacity to distribute between 20,000 and 30,000 units per day. The company also has offices and distribution centers in Panama and Chile. In China, STF Group operates through a subsidiary and its own team.
The Studio F concept has a total of 179 points of sale, with Colombia (one hundred own stores and three concesions in department store Falabella) and Mexico (57 stores and seventy concesions in department store Liverpool) as the biggest markets.
Ela, on the other hand, is the younger brand of the group: it currently has 136 stores in Colombia and Panama and also has a childrenwear line. Finally, Top One, also specialized in women, was launched in 2017 and has six stores in Colombia.
Cueros Vélez started in 1986 with Raúl Vélez and Ana María Echevarría as a company specialized in leather goods. In recent years, the company has diversified with the launch of fashion and footwear collections for men and women, although leather goods and handbags continue to make up the bulk of sales. Footwear prices are around 269,000 Colombian pesos (56 dollars), while handbags cost, on average, 400,000 pesos (80 dollars).
The company has expanded through retail and currently has about 300 stores in Colombia, Guatemala, Panama, Mexico, Peru, Costa Rica and El Salvador. The company also operates with two other brands, Nappa and Tannino, specialized in leather goods and distributed both online and in some Cueros Vélez stores.