Marks&Spencer joins forces with Microsoft to bring artificial intelligence to stores
Both companies have reached an agreement to test the capabilities of this technology to improve customer shopping experience and streamline operations.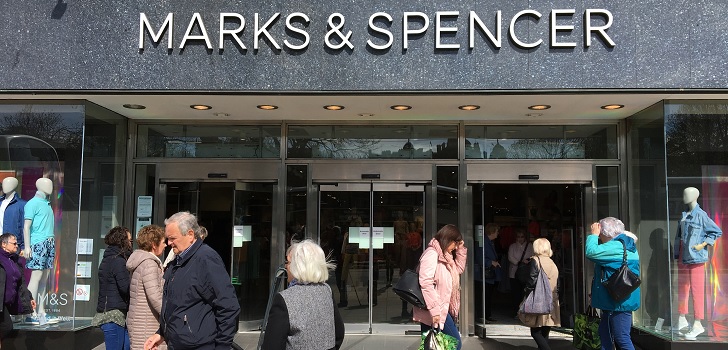 Marks&Spencer accelerates its transformation plan. The British department store group has reached an agreement with Microsoft to test the capabilities of Artificial Intelligence (AI) in brick-and-mortar retail environment.
Engineers at Microsoft will join forces with Marks&Spencer IT team to explore together how this technology can be used to improve customer shopping experience and to streamline operations.
Marks&Spencer isn't the first company that has started to investigate on the store of the future with the support of tech giants. Inditex has initiated a collaboration with Fetch Robotics and Intel to step towards full digitalization. The Spanish group, owner of Zara, is developing robots to work on stock inventories and a tool that enables to measure the volume of clothes that passes through a cash desk.
Inditex, Mango, Zalando and Shiseido are some of the groups that have also teamed up with tech giants to boost retail innovation
Another Spanish group, Mango, announced last February an alliance with Vodafone to accelerate the rollout of digital fitting rooms in key stores worldwide. The new cabins are equipped with a digital mirror based on the Internet of Things (IoT).
Tommy Hilfiger has also started a collaboration with IBM and The Fashion Institute of Technology Infor Design and Tech Lab (FIT) to explore the bonds between technology and fashion. More precisely, the three companies are in the midst of a pilot project that uses artificial intelligence to identify and facilitate fashion trends.
Shiseido is also is working with Giaran, an American company specialized in big data and predictive technology, to reinforce its digital strategy. Zalando is also taking steps in digitalization: the ecommerce group announced in March that it will substitute 250 marketing employees to instead start using algorithms powered by AI.
In the same day that the alliance with Microsoft was made public, Marks&Spencer also announced the appointment of a new buying director for childrenswear. The department store group appointed Michelle Ojulah for this position, until now in charge of the fashion department at Cath Kidston.