Salvatore Ferragamo continues its downward trend: sales drop 3.4% in 2018
The Italian luxury company closed the last fiscal year with a revenue of 1.34 billion euros harmed by the multi-brand channel.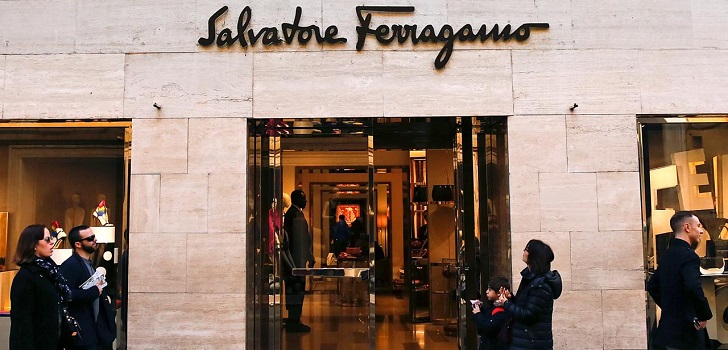 Salvatore Ferragamo closes another year with a downward trend. The Italian luxury company has completed the last fiscal year (period closed on December 31) with a decrease of 3.4% in its revenue, to 1.34 billion euros.
By distribution channels, the multi-brand and the department stores were the most affected. The revenue of Salvatore Ferragamo through these channels fell by 3.8% in 2018, to 447.5 million euros.
In the mono-brand establishments, the Italian group had earnings of 877.9 million euros, 3% less than in the previous year. The company's licensing business also fell, with a decrease of 6.2% to 9.5 million euros.
Salvatore Ferragamo reduced its sales in all the markets in which it operates. The group's revenue reached 329.7 million euros in Europe, 6.1% less than in the previous year.
Salvatore Ferragamo reduced by 3.6% its sales of footwear and by 2.4% those of handbags in 2017
In North America (excluding Mexico), the Italian company's revenue decreased by 5.4%, to 315.6 million euros, while in Asia Pacific the group had a profit of 505.5 million euros, 1% less. Japan was the market where revenue fell to a lesser extent in 2018, with a fall of 0.4% to 119 million euros. In Latin America, on the other hand, Salvatore Ferragamo's sales fell by 2.3% to 76.6 million euros.
By categories of products, footwear remained as the one with the highest revenue, with sales valued in 554.6 million euros, 5.9% less than in 2017. The earnings from sales of leather handbags and accessories were reduced by 1%, up to 521.3 million euros. The division that fell the most in 2018 was prêt-à-porter, with a reduction in its revenue of 14.9% to 76.4 million euros.
On December 31, the Italian company had a commercial network consisting in 409 of its own stores and 263 points of sale operated by third parties, including corners in department stores and travel retail.