Sears at the edge of bankruptcy, shares fall 17%
The American department store chain, which recently appointed a new board member with former experience in restructuring, has hired M-III Partners as it could be closer to a bankruptcy filing, according to The Wall Street Journal.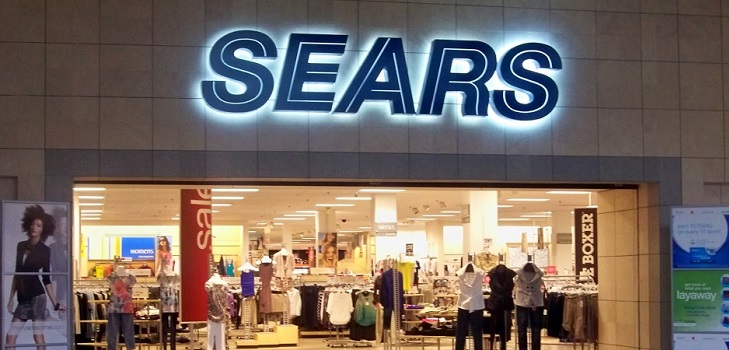 Sears' stock falls sharply as bankruptcy rumours emerge. The American department store group, which is going through a delicate financial situation due to a huge debt, has hired M-III Partners and could be near to a bankruptcy filing, reports The Wall Street Journal.
The news released today has triggered a drop in Sears' shares on the New York Stock Exchange. The retailer stock value fell by 17% to 0.38 dollars.
Sears accumulates losses over 11 billion dollars (9.53 billion euros) since 2011, while sales have declined 68% since 2007, to 16.7 billion dollars (14.5 billion euros) in fiscal 2017.
Sears' losses exceed 11 billion dollars (9.53 billion euros)
Edward Lampert, the company's chief executive officer and key stakeholder, is looking to kick-start a broader restructuring plan that includes the sale of real estate assets worth 1.5 billion dollars (1.3 billion euros), besides various strategic divestments amounting to 1.75 billion dollars (1.51 billion euros), including the sale of home equipment brand Kenmore.
Today, Sears appointed a new member to its board of diectors: Alan J. Carr. He's an expert in restructuring businesses in difficult financial situations and is currently chief executive officer at Drivetrain Advisors.
Earlier this year, the department store company announced the closure of over two hundred stores in the United States. On November, Sears will shut down 46 additional points of sale on its local market, the majority of them belonging to the eponymous group retail chain, with 13 Kmart stores also affected.
Sears, a company with over 800 stores, ended the first half of fiscal 2018 with sales of 6.07 billion dollars (5.2 billion euros), 28% less than in the same period of last year. Losses increased up to 932 million dollars (799.1 million euros).