Zara grows in its kingdom: gains 10% more buyers in its home market
The low-cost fashion chain remains the largest by number of buyers, with 10.7% million customers in Spain. Pull & Bear overtaken C&A in the fourth position and Springfield has surpassed Stradivarius.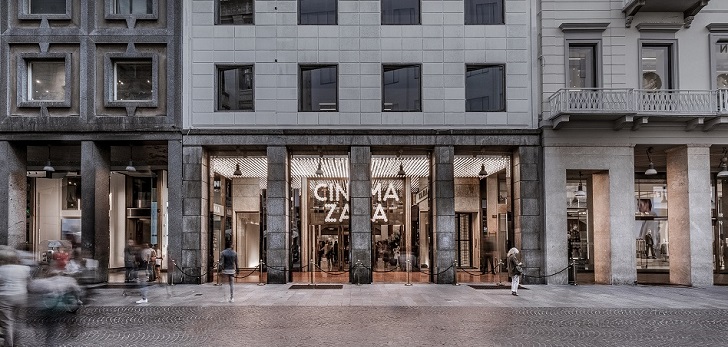 Zara carries out the reconquest of its kingdom. The Inditex chain, which lost the fashion throne in Spain in 2014, has accelerated anew in 2019, adding 10.4% more buyers, according to Kantar data. Primark, which keeps the first position among fashion chains, has lost momentum.
The low-cost fashion chain has moderated its escalation in recent years. In 2017, the chain added 8% more buyers, in 2018 it climbed another 7.3% and in 2019 it only increased by 2.5%, up to 10.7 million people.
While Primark slows down, Zara has begun its path to the reconquest of gold. The Inditex star chain registered 9.08 million buyers last year, 10.4% more than the previous year.
H&M completes the podium of the biggest fashion chains by number of buyers, although a gap remains of more than two million customers from its main rival. In 2019, the Swedish chain received 7.01 million customers, 3.9% more.
Together with Zara, the three chains that best evolved in 2019 were Pull & Bear, Mango and Lefties. The young fashion chain of the Inditex group climbed to fourth place, ahead of Stradivarius and C&A, after firing 15.4% of its number of clients, up to 5.4 million.
Mango ripped the benefits of its transformation plan, adding 14% more customers, up to 3.8 million people, and remained the ninth largest fashion chain in Spain by access.
Fashion has added 2.5% more buyers in Spain
Lefties, for its part, property of the Inditex group, confirmed the good practice of low-cost in Spain with a growth pf 13.1%, while Kiabi, similarly specializing in clothing of low prices, not too far behind after raising its consumer base by 6.9%.
The negative note was laid by C&A and Stradivarius. The Dutch chain was the only one in the top 15 to reduce its number of customers last year, with a fall of 4.8%. As for Stradivarius, it barely added 0.57% more customers, losing the fifth position in the ranking.
Kantar emphasizes that this year, fashion has managed to incorporate buyers, with a 2.5% increase, and that specialized chains are the segment that has added the most customers.
In addition, the company clarifies that "also department stores and the dynamic channel manage to grow, driven by hard discount, which is increasingly present in the textile sector."