China shakes cotton market: imports fall 54% and production shrinks by 24% in six years
The Asian country, main consumer of this raw material worldwide, could continue shaking up the market after applying tariffs to US cotton, the largest exporter globally.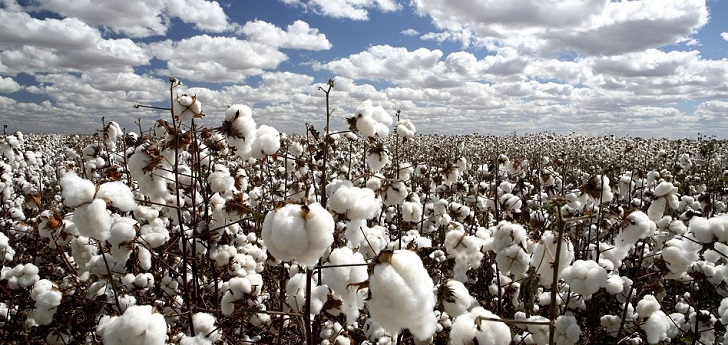 China continues to destabilize global cotton market. The fashion industry, whose gross margins are very sensitive to manufacturing costs, faces a new stage of uncertainty. The reason is the evolution on trading conditions of one of its key raw materials. In the last five years, the largest cotton consumer worldwide has reduced imports by 54% and shrunk local production by 24%.
Between the 2013-2014 and the 2017-2018 campaigns, China's cotton consumption grew by 6.8%. To cater the increasing demand, the local textile industry has pulled mostly national stocks, which have been reduced in this period by 30%, according to the International Cotton Advisory Committee (Icac).
Moving forward, China could further destabilize the market after applying additional tariffs on cotton coming from the United States (which is in turn the world's largest exporter) following up the trade battle between both countries. In fact, the Chinese government picked cotton as one of the first products to apply 25% taxes to counteract the US first tariffs' package.
During the last five campaigns, China has redefined the world market for this raw material, dragging down world production to 25.8 million tons, 1.7% less than five years ago, while global stocks fell by 9.7% in the same period to 19.25 million tons.
For the 2018-2019 campaign, which began on August 1, it's expected that cotton production will decrease to 25.37 million tons, while global consumption will reach 26.47 million tons. In fact, the demand for this raw material has maintained a downward evolution in the last five seasons.
The fluctuations in cotton prices have been decisive in this scenario. In the 2014-2015 and 2015-2016 campaigns, its price hit bottom lines, standing at an annual average of seventy cents per pound. In the last two seasons, it has been revalued to 83 cents, but still remains far from the 91 cents of the 2013-2014 period.
World trade for this raw material has also suffered under this new scenario. In the last five seasons, exports have fallen by 7.2% and imports by 5.3%. In terms of exports, the United States has reinforced its leadership with an increase of international sales by 38% in this period up to 3.16 million tons, almost 40% of the total.
The other two largest exporters, India and Australia, reduced its sales abroad in the last five years. Foreign sales from India fell by 53% and those from the Australian market were reduced by 11%.