The United States reaches new trade deal with Canada and Mexico to replace Nafta
The new agreement between the three countries, named as Usmca, will substitute the former free trade agreement after a year of negotiations. It contemplates a reduction of textile and garment quotas that don't comply with the rules of origin.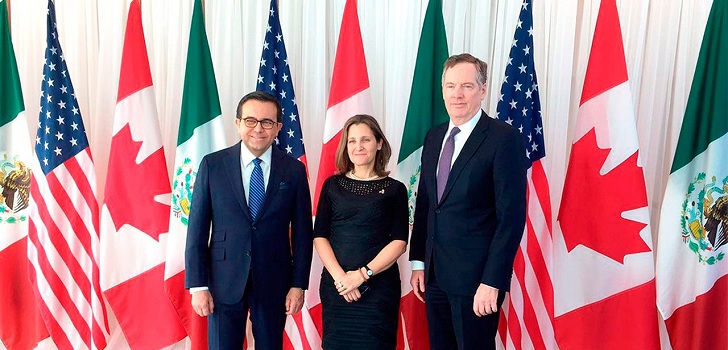 New free trade deal for North America. The United States, Mexico and Canada have reached an agreement to revamp former North American Free Trade Agreement (Nafta). It will be signed in November and named as United States, Mexico and Canada Agrement (Usmca).
The three North American countries have been renegotiating Nafta since last year, as the Us Government pressured to modify certain features. Last August, Mexico and the United States reached a pre-agreement to sign the new treaty bilaterally, without Canada's involvement.
One of the obstacles for the entry of Canada into the new trade deak was related to dairy products and car tariffs. US president Donald Trump had threatened Canada with the elimination of Nafta and the signing of a bilateral pact with Mexico, besides imposing tariffs on Canadian cars' imports.
The United States had already reached an agreement with Mexico to sign a new trade deal last August
The new agreement signed by the parties contemplates the reduction of textile and garment quotas that don't comply with the rules of origin. However, the Mexican textile won't be so affected by the new measure, since the current quotas have never been used in their entirety.
By sectors, textile and apparel goods (except for those made of cotton or artificial and synthetic fibres) used half of the quotas in 2017, while wool garments were used in 79.2%.