Arket, H&M's winning bet: 20 stores in 2 years
The Swedish group has been experimenting with new store concepts and chains for the past years. H&M has launched three new chains since 2017 and closed other two.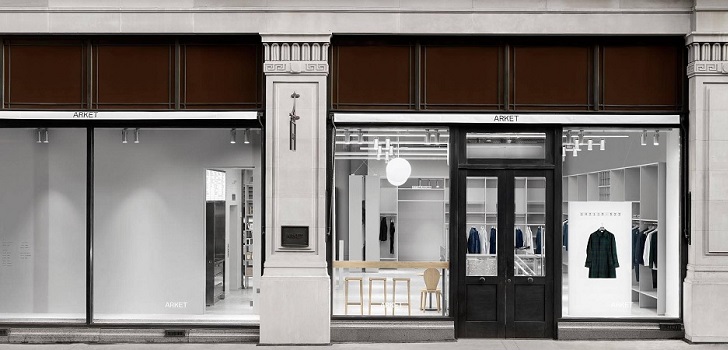 In two years, H&M hast tried it all. In a challenging context and while the industry is facing a radical transformation, the Swedish giant has launched three new concepts, but not all of them have worked. In this trial and error strategy, Arket has been the winning bet. The company, with a multi-brand and experiential approach, has opened twenty stores in two years and the group plans to keep expanding it in the next years.
The group founded the chain in 2017 as a new concept that merged lifestyle with experience and sold a variety of items from different brands. With a cafeteria and a more conscious offer of products, Arket is the group's bet that defied the closure trend of the group.
In 2017, H&M founded three new chains, the first one was Nyden, its eighth chain designed to be a pure player to conquer younger consumers that didn't relate to any other concept of the group. But the new chain only lasted six months, when the group decided to shut it down that same year.
The group has opened three new chains since 2017 and closed other two
The group kept trying and that same year it founded Afound, that aimed to try selling third-parties' products at a reduced price. The chain was present with some physical stores and online, but that same year H&M decided to cancel its offline expansion and keep the online platform, that it currently available only in the Netherlands and Sweden.
"This is a conclusion we have drawn after our first year," Joanna Hummel, chief executive officer of Afound, explained in a statement. "We have now clarified that our approach will be digital," stated the executive.
Continuing with the restructuration of its brands, H&M closed that same year Cheap Monday, its younger fashion chain that the group acquired back in 2008. "Cheap Monday has a traditional multibrand business, which is a model that has faced great challenges because of the change in the industry," stated the company. The closure of the chain represented the dismissal of about 80 employees.
H&M Group is the owner of chains Cos, Monki, Weekday, & Other Stories, H&M Home, Arket and Afound. The company is present with its online business in 51 countries and has more than 5,000 stores in 74 markets worldwide. The group was founded in Sweden in 1947 and has been listed on the Stockholm stock exchange since 2008. The Swedish group reached a revenue of 232,765 million Swedish krona (24.6 billion dollars) in its fiscal year 2019 and, group sales rose 6%.