Inditex appoints new head of sustainability in full 'eco' push
The person in charge of the division will be Javier Losada, up until now responsible of management. The executive works closely with executive chairman, Pablo Isla.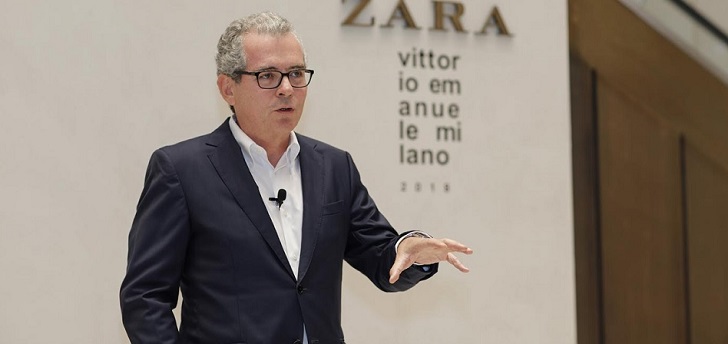 Inditex shapes a new team to lead its turn towards sustainability. The Spanish group, number one in the world by revenue, has appointed Javier Losada as the new head of sustainability, as Mds has confirmed. Miguel Díaz, chief financial officer of Zara, will also be appointed as chief sustainability officer of the chain.
These new appointments are framed in a strategic turn of the Spanish company. At the last annual shareholders meeting, the executive chairman of the group, Pablo Isla, shared the company's new roadmap in terms of sustainability, which involves increasing the use of recycled or sustainable materials and progressively reducing waste by 2025.
As usual in the group, Inditex has turned to in-house executives to assume new positions within the area of ​​sustainability. Díaz is a historical of the group, which he joined in 1989 as chief executive officer of Zara. Losada, on the other hand, was up until now responsible of management.
Miguel Díaz, CFO of Zara, will also assume the sustainability direction of the chain
Within the sustainability team, the company has also appointed Luis Coloma, until now in charge of infrastructure, as the new director of environment, replacing Antonio Álvarez. On the other hand, Félix Poza has taken over the area of ​​diversity, inclusion and equality, framed within the human resources division headed by Begoña López.
Inditex has also created this year a new sustainability commission on the board of directors, chaired by Denise Patricia Kingsmill, and with José Arnau, Pilar López Álvarez, Anne Lange and José Luis Durán as members.
Zara's parent company is, together with H&M, one of the largest fashion retailers that is leading the commitment to sustainability. The company maintains agreements with universities around the world to investigate new materials, has a program to collect used garments to be recovered and an eco-efficient store plan that has already been fully implemented in markets such as China.
Among the goals that the group has set this year is that its entire store network is adapted to its eco-efficient model at the end of 2019, that in 2020, about 25% of the products are labeled with the Join Life seal and that, in 2025 , all its collections are made of organic, sustainable or recycled materials before 2025.