Inditex shrinks its production by 17% in 2020 and takes a step back in China for the first time
During the Covid-19 year, the group reacted by accelerating the importance of proximity on its production, with 49% of total suppliers. The group stopped working with 65 suppliers in China.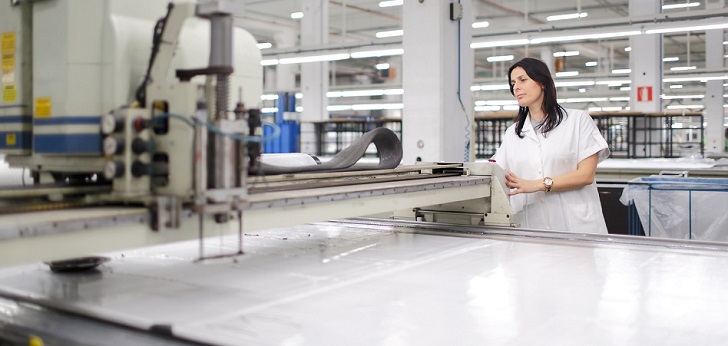 Inditex adjusted its sourcing hubs due to the Covid-19 impact. The Spanish company has reduced for the first time in at least five years its number of suppliers in China. Even so, the country continues to be its main pole of world production. In a year marked by sourcing readjustments to cope with the pandemic, the company reduced its production volume by 17%, thus accelerating the importance of local production.
Just like so many other retailers in 2020, Inditex adjusted its production after the restrictions imposed over the world in order to slow the pandemic down and the consumption decrease these restrictions supposed.
The group chaired by Pablo Isla ended 2020 with a production of 450,146 tons of garments, which means a 17% decrease compared to 2019. It also means going back to 2016 volumes, according to that year's annual report. Inditex produced more than 545,000 tons of garments in 2019.
This drastic reduction accelerates a trend that was already set in previous fiscal years. While in 2016 Inditex increased its annual production by almost 20% compared to 2015, in 2019 the increase was only by 3%. In 2018, its increase was slightly higher (3.19%) compared to 2017. However, in 2017 and 2016 the company had increased its annual production by 8.69% and 11.54%, respectively.
Inditex ended 2020 having manufactured up to 450,146 tons of garments
In the fiscal year of Covid-19, Inditex reduced its number of suppliers for the first time in at least five years. The group organises its global supply in twelve clusters (Spain, Portugal, Morocco, Turkey, India, Bangladesh, Pakistan, Vietnam, China, Cambodia, Argentina and Brazil), which account for 97% of total production. China is the largest of these clusters.
At the end of 2020, Inditex had worked with 412 suppliers in China. That meant a decrease by 13.6% compared to the 477 they worked with the year before. At the same time, these suppliers worked with 1,414 garment factories (1,465 in 2019) and 1,323 other processing factories (853 in 2019). The company reduced the number of suppliers, but worked with larger companies, which is reflected on the 26% increase in the number of manufacturing workers the company recorded in 2020: up to 635,532 employees.
In its last fiscal year, Inditex cut down the number of suppliers with which the company works in all of its clusters with one exception: Turkey. With production in China on standby and the need to adjust to demand, most fashion companies turned to Turkey as its primary supplier.
In 2020, Inditex worked with an amount of 215 suppliers in Turkey, up from 6.44% more than in 2019. At the same time, the company operated with 906 garment factories in the country (959 in 2019) and 828 factories associated with other processes (747 a year earlier). Overall, factories working for Inditex in Turkey employed 364,201 people in 2020, 9.5% more than in 2019.
China's downfall and Turkey's rise may serve as an example of the Spanish company's balance, with a growing interest in proximity. Although Inditex does not share data about production in volume, production in proximity accounted for 49.42% of total suppliers in 2020.
This interest in proximity is an attribute of the strategy of Inditex, because it allows the company to achieve the needed agility to adapt to the market and its demand. Therefore, the activity of Inditex has grown in places like Spain, Portugal, Morocco or Turkey in the last years. In 2018, local destinations accounted for 45.89% in number of suppliers and in 2019, for 47.04%.
Far sourcing hubs are progressively losing volume within Inditex sourcing. At least in terms of number of suppliers. Inditex's 2020 business in India, Bangladesh, Vietnam, Cambodia, China and Pakistan accounted for 49.57% of the total in 2020, compared to 51.51% a year earlier and 52.04% in 2018.
Proximity production accounted for 49.42% in terms of providers
Spain was the most affected by Covid-19 local supplier. In 2020, the company reduced by 13.66% its number of suppliers with purchases in the country, to a total of 177. With 135 garment factories and 314 factories for other processes, Inditex's manufacturers in Spain employed 18,718 people in 2020, which means 32.1% more compared to 2019. In Portugal, the company reduced the number of suppliers by 7.06%, to 158. In Morocco, the fall was only by 0.52%, to 137 suppliers.
From Asia, only Bangladesh could end 2020 rising its number of Inditex's suppliers. At the end of the fiscal year, the Spanish company had purchased from 118 suppliers compared to 2019's 117 suppliers. These factories in Bangladesh employed 811,603 people, which meant a raise by 13.98% compared to 2019.
Inditex reduced by 17.21% the number of suppliers with which the company works with (101). Vietnam fell by 12.50% (only seven). Cambodia was reduced by 25% (only three). Finally, Pakistan was cut down by 12.73%, to 48 suppliers.