Inditex vs. pure players: Zara owner is smaller than Zalando, but bigger than Asos and Boohoo
The fashion retailer had a turnover of 6.6 billion euros online last year. High-street rivals H&M and Gap generated online less than €6 billion each last year.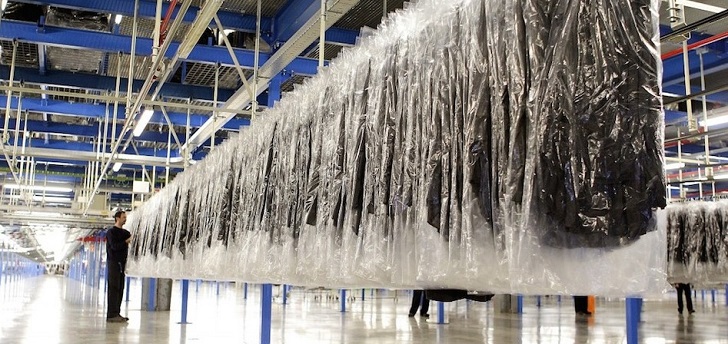 King on the street and king online. Although it was relatively late in its online strategy, Inditex already generates more sales with its e-commerce platforms than pure players such as Asos or Boohoo combined. Considering only fashion specialists, only one pure player beats the owner of Zara: Zalando, with which it has narrowed its distance in recent years.
Although it has been leading the ranking of fashion retailers for years, it is unusual for the Spanish group to refer to itself as a leader. But yesterday, during the presentation of its annual results, Inditex highlighted that the growth of its online sales in 2020 places it among the world leaders in online fashion retail.
The company had online sales of 6.6 billion in 2020, up 69.5% from 2019, when its e-commerce revenues reached 3.9 billion euros. The online channel represented 32.4% of the group's total revenue in fiscal year 2020 (ended January, 31), almost twenty b.p. more than in 2019.
Zara parent company sells more online than Gap, H&M and Fast Retailing, although the share of online sales is in line with its rivals
Zalando, the largest pure playe specialized in fashion in Europe and one of the largest in the world, has not yet published its results for the fiscal year, which ended one month later than Inditex.
According to its latest forecasts, the company will grow between 20% and 25% this year, which would place its turnover in a range of between 7.78 billion and 8.1 billion euros, one billion more than what Inditex sold online.
It would be the first time that Inditex has tightened the gap with the German group: in 2017, they were almost 2 billion apart in online sales; in 2018, they were 2.2 billion away and in 2019, 2.6 billion.
Inditex has cut distances with Zalando for the first time
Inditex does sweep away the other pure players specialized in the sector. Asos, which in 2017 almost equaled it in online sales, ended 2020 (August, 31) with a turnover of 3.3 billion pounds, which is around half of what Inditex makes online.
Last year, the company acquired Topshop, dubbed the king of the high street. However, Asos will not use it to make the jump to the street but has chosen to close all its stores, including the iconic Oxford Street flagship.
Boohoo is even further away. The British pure player, which last year bought three brands from the Arcadia group and the Debenhams department store, has not yet released its financial results, but its forecasts also place it below Inditex.
In 2019, ended on February 28, 2020, the company sales reached 1.2 billion pounds, and for this year it expected to grow between 36% and 38%. Finally, Inditex also sells more fashion online than Farfetch, which had a turnover of 1.7 billion dollars in 2020.