Justin Alexander, all in in the kingdom of Pronovias
The company landed in Spain in 2009 but didn't manage to open its way in a market full of competitors. Now, the group plans a new offensive in the country.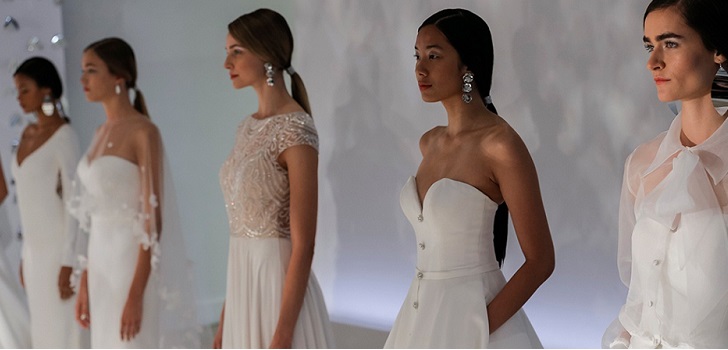 Justin Alexanders gives Spain a second shot. The company, one of the biggest bridal fashion groups in the world, gets ready for a new offensive in the Spanish market, ten years after its weak landing in the European country, as stated by the company to Mds.
The company arrived in Spain in 2009, right before the crisis. Five years later, the brand was present in 15 multibrand stores in the country. "Spain is a very difficult market for a for a foreigner nuptial fashion brand", the company stated, talking about the strong competition led by Pronovias and Rosa Clará.
Justin Alexander changed its focus to other European markets like Greece, Italy and France to boost its expansion. The company counts with a strong presence in the United Kingdom, where according to the company it's the second bridal fashion company, Poland, Greece and Germany.
Now, the group prepares a new offensive in the Spanish market, where it currently operates with more than fifty stores. The goal is to replicate in Spain its good results in Latin America, where it boosted its development in the last three years with director Michael Duhoux, former Pronovias.
Justin Alexander landed in Spain in 2009, right before the crisis
The company, founded in 1946 in New York, has four bridal fashion brands: Justin Alexander, Signature, Sincerity, Sweetheart and Lilian West, launched in 2014.
The group has its headquarters in New Jersey and runs its European market from Rotterdam, Netherlands, but in the case of Spain, the management will take place in the Latin American headquarters. Besides, the company has offices in New York, London and Hong Kong and its garments are present in more than 1,500 stores around the world.
Spain is one of the most competitive markets for the bridal fashion brands. The business in this country is led by two big groups that have put a brake in the entry of other companies to the local market.
The biggest is Pronovias, run since 2017 by the fund BC Partners. With an estimated revenue of 170 million euros, according to Moody's, the company has acquired in the last couple of years two foreigner competitors: Nicole, in Italy and Lady Bird, in Netherlands.
On the other hand, Rosa Clará's revenue is around 60 million euros, according to the last available data, and counts with 140 stores and presence in around 3,500 multibrand establishments around the world.