Kate Spade to add another market in Latin America: enters into Costa Rica with Grupo Phoenix
The American luxury company, which is part of the Tapestry conglomerate, will open its first store in the country in July, which will be located in the Multiplaza Escazú shopping center.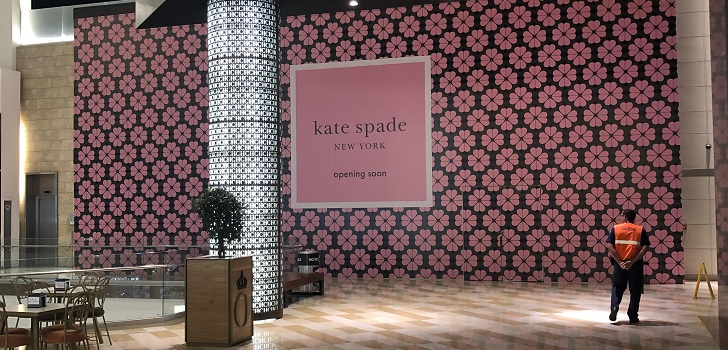 Kate Spade disembarks in Costa Rica. The US luxury company, owned by Tapestry, increases its commitment to Latin America and completes the opening of its first establishment in the Costa Rican market, where it will operate hand in hand with Grupo Phoenix.
The Kate Spade store will be located in the Multiplaza Escazú shopping center in San José, and will have an area of ​​115 square meters, according to what Grupo Phoenix has told to Modaes.es. The opening is scheduled for the first half of July.
The Panamanian distributor was also in charge of bringing Kate Spade to other markets in Latin America such as Aruba or Panama, where he landed in mid-2017 with a first store in the capital of the country.
Kate Spade operates in Panama, Aruba and Mexico, among other markets in Latin America
In Multiplaza Escazú, Kate Spade will share space with other luxury and premium fashion brands such as Hugo Boss, Pierre Cardin, Calvin Klein, Purificación García, Tommy Hilfiger or Massimo Dutti.
The American women's fashion company operates in other markets in Latin America, although its presence is concentrated in Mexico, where it has Grupo Axo as its partner, with whom it sealed an alliance in 2013 and already has a dozen stores.
In the North American country, Kate Spade is present with single-brand stores, as well as with points of sale in the Mexican department stores El Palacio de Hierro. In fact, the company has already confirmed its presence in the new establishment that the group will open in Veracruz.
Kate Spade is part of Tapestry (formerly known as Coach Group) since May 2017
The expansion in Latin America coincides with the changes on a global scale that the company is carrying out. Last year, Kate Spade appointed Anna Bakst as the new CEO and president, a little less than a year after it passed into the hands of Coach.
The US group, which also has Grupo Axo as a commercial ally in Mexico, changed its name to Tapestry, a conglomerate that includes Coach, Kate Spade and Stuart Weitzman.
Tapestry ended the first nine months of the year (period ended on March 30 of 2019) with a 2.6% increase in sales, up to 4,513.4 million dollars. The group's profit tripled, with profits of 494.5 million dollars compared to the 185.2 million dollars of the same period of the previous year.
Kate Spade was the second largest brand in Tapestry's total turnover in the first nine months, only behind Coach. The women's fashion firm registered a turnover of 1,034.9 million dollars in the period between August and March.