LVMH surpasses the 50 billion sales in 2019 with a 15% increase in revenue
The luxury conglomerate, which last year, sealed one of the biggest deals of the year with the purchase of Tiffany, it reached sales of 53.7 billion euros in its last fiscal year which ended in in December 31.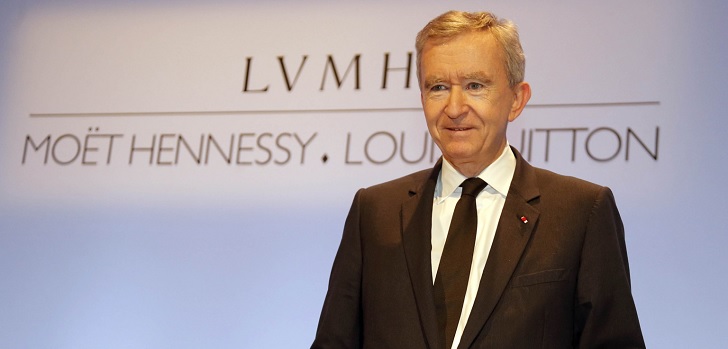 LVMH's ascents continues. Neither the slowdown of sectors such as luxury watchmaking, the trade war, the crisis in Hong Kong have been able to slow the conglomerate led by Bernard Arnault, which has ended the 2019 financial year with a 15% growth in sales and profit. At the end of last year, LVMH agreed to purchase Tiffany, but the deal will not close until mid-2020.
The company has ended the year with a revenue of 53,7 billion euros (59.2 billion dollars), 14.6% more than the previous year. Profit from recurring activities skyrocketed another 15%, to 11,5 billion euros (12.7 billion dollars). In the last year, Asia (excluding Japan) has particularly gained significance in the group's revenue, which already reaches 30%.
The second largest market for the company is the United States, with 24%, and Europe, excluding France, with a share of 19%. The company has grown in all its regions, although DFS duty free suffered due to the Hong Kong crisis in the second half.
LVMH is confident for 2020 despite the "uncertain geopolitical context"
By product category, the holding company's fastest growing division is fashion and leather goods, which saw a20% increase in sales, to 22.2 billion euros (24.5 billion dollars), and its profit by 24%. The company underlines the "exceptional" evolution of Louis Vuitton, the "strong" growth of Loewe and the "good" progress of Loro Piana, Rimowa and Berluti, although it does not detail sales by brands.
The second category to increase its sales was perfume and cosmetics, with an increase of 12%, although its profit only advanced 1%. Dior, Guerlain and Givenchy were the main drivers or the sales in this category. The company attributes the moderate increase in profit to "the exceptional depreciation of the product lines of certain young American brands."
For its part, the division of wines and spirits increased its revenue by 8%, jewelry, 7% and selective distribution, which includes Sephora and is the second largest by revenue, grew by 8%.
"In an uncertain geopolitical context, LVMH is well equipped to continue its growth in all divisions in 2020," explains the company. "The group will follow its strategy based on developing its brands and relying on innovation and investment," remarks the group.