Michael Kors' new group to be renamed Capri as it seals Versace's acquisition
Under its new name, the company will encompass the Michael Kors, Jimmy Choo and Versace brands. The group announcement comes a year after its rival Coach also renamed itself as Tapestry after taking over Kate Spade.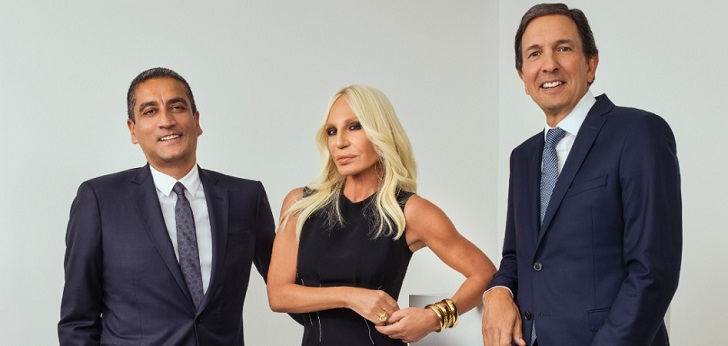 Michael Kors transforms into Capri Holding. The American group just announced that it will change its name to emphasize its identity as luxury brands conglomerate, which includes the Michael Kors, Jimmy Choo and, as of today, the Versace labels.
The company has confirmed the Italian brand's buyout for 2.1 billion dollars (1.3 billion euros), including all existing Versace shares and not just a majority stake, as it was announced yesterday.
Following the deal, the three Versace family members will remain as shareholders, as Donatella, Sandro and Allegra will obtain shares from Capri's parent company. "With the full resources of our group, we believe that Versace will grow to over two billion dollars in revenues," said John Idol, chairman and chief executive officer of Kors, in a statement.
Michael Kors' parent Capri Holding expects Versace to achieve two billion dollars in revenues in the future
Donatella Versace is keeping her role as creative director, while chief executive officer Jonathan Akeroyd will also remain at the helm of the business. In order to reach the two billion dollars goal, Capri Holding is expanding the brand distribution to 300 stores worldwide, investing on ecommerce and also broadening the accessories and shoe product categories.
Michael Kors' renaming is a natural step to avoid misunderstanding between the brands' description and the parent company. US rival Coach also renamed itself as Tapestry one year ago after taking over Kate Spade and setting up a luxury portfolio with those two brands and Stuart Weitzmann.
A few days ago, Michael Kors appointed Andrea Pesaresi, a former Ermenegildo Zegna executive, as president of its men's division. He succeeded Don Witkowski, who passed away last June.