Pronovias signs former Loewe executive to lead retail experience
The group, owned by BC Partners and led by Amandine Ohayon, has signed Amanda Pérez as the new head of retail experience in all its stores.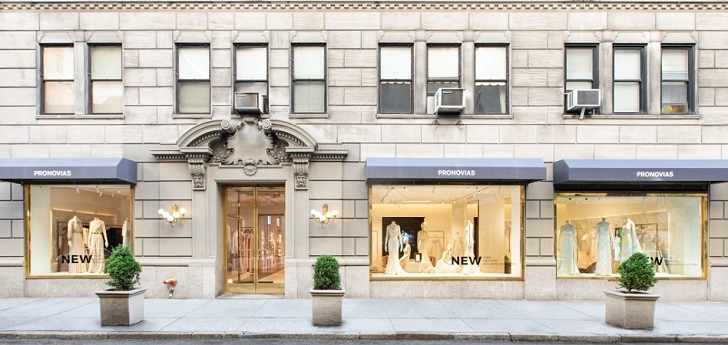 Fashion continues to rearrange its management teams focused on the client. After the of creative roles like chief client officers or chief happiness officers, Pronovias has just appointed Amanda Pérez as the new head of experience in its global store network.
The executive has a long career in the fashion business. With a degree in Architecture from the Universidad Politécnica de Madrid, Pérez has worked in Uno de 50 and Loewe before joining Pronovias this year.
Retail is key in the bridal fashion sector, where online sales rate is still minor. The experience in the store also takes on special importance as it is a purchase with a high sentimental load, which is often decided in the fitting rooms.
Pronovias has rearranged its management team in the last two years
However, the commitment to add new roles to make stores more attractive is not exclusive to Pronovias. Earlier this year, Spanish Mango appointed Diego Sebastián, former Apple and Hawkers, for the role customer experience director and store innovation.
The expansion of its retail network is one of the pillars of the new plan of Pronovias. The company, controlled by BC Partners fund, has opened two new flagship stores this year, one in New York and the other in Shanghai, which meant its landing in China.
This year, the company has reordered its design team after the departure of the former creative director, Hervé Moreau. Alessandra Rinaudo, founder of Nicole (owned by Pronovias), took the position of chief artistic director.
Experience is key in a purchase with a sentimental component such as bridal fashion
Nicole Cavallo, daughter of Rinaudo, has gone on to lead the creative area of ​​Nicole Fashion Group and has the goal of conquering younger audience. St. Patrick brand, meanwhile, is directed by Riccardo Serravalle, who has worked for brands such as S Oliver, Barbara Becker or Justin Alexander, specialized in bridal fashion.
In addition to Serravalle, Pronovias Group has also signed Thomas Vasseur to it team, which is leading the company's party collection (now called Party Edit) after having worked alongside designers like John Galliano, Alexander McQueen or Jean Paul Gaultier. The company has also signed an alliance with New Yorker Zac Posen for its White One brand.
The ebitda of the group in 2018 stood at 35 million euros, which meant a 22% drop from the previous year, while the gross margin ranged between 17% and 20%, compared to 24.7 % of 2017. The group's debt, meanwhile, is widening, going from a leverage rate of 6.8 times ebitda to between 7 and 7.5 times ebitda.