Koh Kobayashi (Uniqlo): "Zara is not our biggest competitor, consumers only have one wallet for fashion, iPhones or travel"
The director of operations of the Japanese company has spoken about his new opening and how they face the challenges to become the world's first fashion retailer by revenue.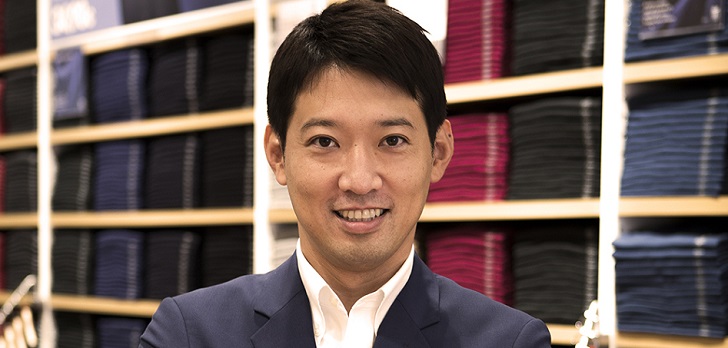 Koh Kobayashi has been working for the Japanese company for more than twenty years, which aims to be the world's largest in its sector, Fast Retailing. When the group landed in Spain with Uniqlo, he entrusted him with the direction of operations in the country. Three years later, Uniqlo has also conquered Madrid, its pending plaza, and Kobayashi opens the door to conquer other cities as well. Afraid of Zara? Yes, but also to Netflix and Apple because, says the executive, "consumers have only one wallet for everything."
Mds: In your latest presentation of annual results you have again said that you want to be the first fashion company by revenue. You are already the second. How many years will it take to defeat Inditex? How are you going to do it?
Koh Kobayashi: It's true that they are the first in the world by revenue but the most important of all is how we show out Lifewear concept, for example tomorrow we open a store here in Madrid but there are still many people that don't know our concept. So, I think that now, in my position I need to focus in this, I am not talking about being number one. That is a goal for our company, yes. I am not in the position of talking about a specific date, yes of course, the bigger the better, but you know for now is to introduce our brand and concept.
Mds: Fashion consumption in Spain is slowing down. Have you noticed?
KK: This is not an issue, there is a lot of information about the market, but it doesn't matter, what we need to do is to boost our Lifewear philosophy and make our customers happy. They should enjoy our shopping experience, that is what we are thinking about.
Mds: Beyond Madrid and Barcelona, where there is a lot of tourism, are you afraid of Zara? Should Zara fear you?
KK: We don't think Zara is our biggest competitor, everything is a competition. You know, customers only have one wallet, not many. It's up to them deciding if they spend this money in traveling, in an iPhone, in buying a suit or buying clothes. So not only Zara, everything is a competition, that is why we have to focus in our concept, make the customer understand it.
Mds: Who would you say is your main competitor?
KK: There is not a main competitor, everything is competition. Even little companies are competition.
Mds: Spanish businessmen complain about the price war and the spiral of promotions. Is it harder to sell full price in Spain than in other markets?
KK: Our product is already very affordable. For example, our cashmere sweater for 99 euros, so of course sometimes we need to do discounts but it's not part of our strategy. I think here in Madrid will accept the concept and will be willing to pay for it.
Mds: Gap is in a slowdown and fast fashion is king. Is it a bad time to sell basic fashion?
KK: No, I am not in a position to talk about other retailers but for example two years ago, when we opened the store in Barcelona it was really successful and then last month in Milan, we feel that our brand awareness is expanding in the world so I don't know about Gap or H&M or Zara but now we are focused in us.
Mds: The quality of materials is very important for Uniqlo. Do Spanish people value it?
KK: Yes, I think so. With the first opening of the store in Barcelona we tested our Spanish clients and many customers appreciate our products and technology.
Mds: And sustainability? Are we willing to pay more?
KK: Not necessarily more, for example our jeans are under our new technology where we managed to cut 99% of water use in the production process but we didn't add any extra cost, so at the end sustainability is an extra value that we have to keep improving, it's a process.
Mds: Two years have passed between the opening of Barcelona and Madrid. Will we have to wait two more to see Uniqlo in a third Spanish city?
KK: We are committed to the Spanish expansion and we want to grow as much as we can in this business but now is Madrid, now we focus on that, on making this store successful and them we think about it.
Mds: But are there any cities that you are contemplating, like Valencia, the south of the country, any other?
KK: Yes, of course we are planning new openings, for now Madrid and Barcelona but we are really really open and neutral, we are always looking for the best location, we are open to welcome these opportunities. After the Madrid opening, I haven't had time to consider other cities.
Mds: How many Uniqlo stores can there be in the Spanish market?
KK: As many as we can, I don't have any specific detail but as much as we can.
Mds: Right when you opened in Barcelona you had the beginning of the independence process. Have you ever regretted the timing?
KK: We don't discuss about political issues, but I know these things happen. Every day since the opening in Barcelona many customers visit the store and buy, so this doesn't affect us or of revenue. Si no, we don't regret the timing.
Mds: They will already have three stores in Barcelona. Do they fit more? Do you contemplate a similar expansion in Madrid?
KK: Yes, but always looking for the better locations and working step by step, one at a time.
Mds: In the rest of Spain, will you also follow high street and shopping malls mix strategy?
KK: As I said we are really really open to any opportunities, but the most important is best place, best location. That is the most important, we take the opportunity as it comes.
Mds: In Japan you operate in Takashimaya (Department stores). Have you talked to El Corte Inglés yet?
KK: Again, we are really really open so you know, El Corte Inglés is a department store that could also be seen as a small shopping center, so we can consider any opportunity.
Mds: But have you talk to them?
KK: we are really, really open.
Mds: Do you have Portugal on the radar?
KK: We are not going to mention anything about new countries, so now I am CEO of Spain.
Mds: What new markets are you planning to enter?
KK: Vietnam.
Mds: What has changed in Uniqlo in the 20 years you have worked in the company?
KK: I think a lot has changed, that is why I remain here. This is the same philosophy as for the products, there might be detail oriented changes but with the latest technology to make life easier for our customers. It's almost the same with our working procedures each year, we decide what we have to work in and what we have to improve.