Fast Retailing grows at a faster pace: sales go up 14% and profits soar 29.8% in 2017
The Japanese group, owner of Uniqlo, ended its last fiscal year (closed on August 31) with a turnover of 2.13 trillion yen (16.4 billion euros) and a net profit of 154.8 billion yen (1.2 billion euros).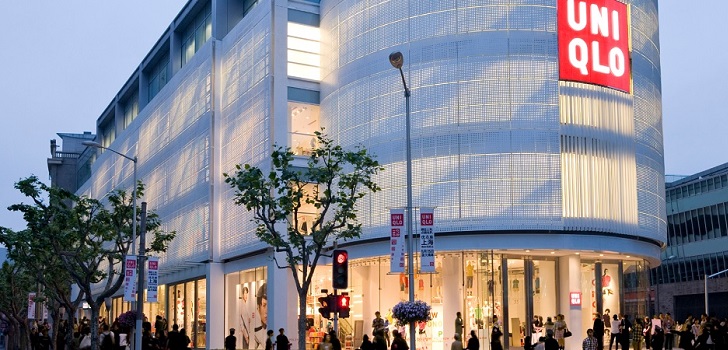 Fast Retailing moves forward in double digits. The Japanese group, third largest fashion distributor worldwide by sales, has ended its last fiscal year (period closed on August 31) with a revenue growth of 14.4% and profits up 29.8% year-on-year.
The owner of retail chains such as Uniqlo, Comptoir des Cotonniers and J Brand, among others, has accelerated its growth pace, compared to a turnover rise of 4% in fiscal 2016. Earnings also maintained momentum after doubling up in the previous year thanks to foreign exchange rates.
Fast Retailing registered revenues of 2.13 trillion yen (16.4 billion euros) and posted a net profit of 154.8 billion yen (1.2 billion euros). On a corporate statement submitted to Tokyo's stock exchange, the group explains that figures have been propelled by Uniqlo's overseas expansion.
Uniqlo's sales abroad were higher than in Japan for the first time in its history
The company maintains its goal of becoming the largest fashion retailer worldwide, even though it doesn't specifies in which time frame. To reach the aim, Fast Retailing is focusing its efforts on Uniqlo and casualwear brand GU, which got split off of the Global Brands division.
In 2017, Uniqlo's international stores registered sales of 89.6 billion yen (689.5 million euros), up 26.6% compared to the previous year, and exceeding for the first time the revenues made in Japan. Overseas' operating profit surged by 62.6% year-on-year.
China represented 15% of the group's turnover abroad, as online sales rose marked double-digit growth in the country. In the United States, the company managed to halve its operating loss after adjusting its offer, which is now different for the east and west coast.
Fast Retailing emphasizes that trading in the new European markets has started "strongly"
Fast Retailing underlines that trading in "the new foreign markets (Spain, Sweden and Holland) has registered a strong beginning". In Japan, Uniqlo grew by 67% last fiscal year, posting sales of 864.7 billion yen (6.6 billion euros), while the GU brand turnover reached 211.8 billion yen (1.63 billion euros), up 6.4%, despite a fall in profit. The Global Brands division (Comptoir des Cotonniers, Princesse Tam Tam and J Brand) revenues were up 9.5% but still registered losses.
During fiscal 2017-2018, the bulk of Fast Retailing's resources were aimed at fuelling Uniqlo's expansion abroad, with investments of 26.3 billion yen (202.4 million euros). Behind there was a capital spending of 9.9 billion yen (76.2 million euros) for Uniqlo Japan and 4.5 billion (34.7 million euros) for GU. Global Brands took the smallest portion of expenditure with 2.7 billion yen (20.8 million euros).