Inditex escapes consumption brake and remains retail's best positioned group
The Spanish giant that announced one year ago its goal to become a pure player by 2020 presents this Wednesday its first half results. Previsions go by a rise in sales despite consumption brake.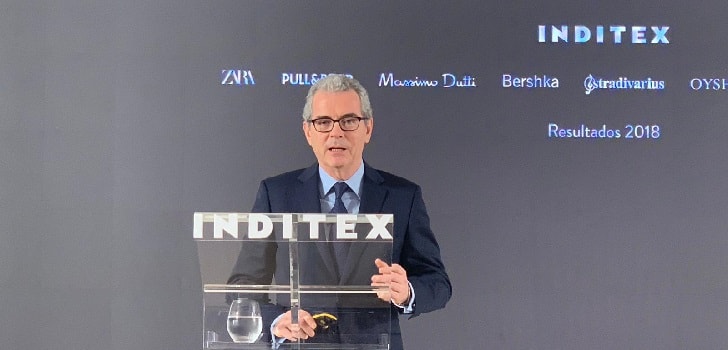 Not H&M, nor Gap, nor Fast Retailing. The favorite retailer of analysts is once again the Spanish giant Inditex. While fashion distribution giants adjust their structures and start plans to adapt to the new retail scenario, investment banks approve the twist of Inditex that this Wednesday will present its first half results.
Inditex still swim in turbulent waters, with the shade of recession in several European counties, a weakened consumption and retail in a transformation phase. The Spanish giant doesn't escape that reality, analysts of JPMorgan and UBS point towards a "lower demand in the quarter".
While competitors like Gap are in the middle of a restructuration, Fast Retailing faces its international expansion and H&M starts embracing digitalization after two consecutive fiscal years with disappointing results, Inditex proofed itself against the harsh context after announcing one year ago its intention to become a pure player by 2020.
JPMorgan forecasts a growth of 8% in the second quarter, up to 6.9 billion euros
JPMorgan expects that in the second quarter Inditex sales increase 8%,up to 6.9 billion euros. A weaker estimation that the bank states its due to lower demand during the first quarter and a slowly growth in the local market in July".
Inditex closed its second quarter with uneven results: even if it faced the drop in its margins, closing the first quarter more profitable since 2013, sales continued with moderate rises with an increase of 4.8%, compared to the 4.5% of the fourth quarter of 2018.
H&M closed its second quarter (that doesn't match in dates with Inditex since the Swedish group ends its fiscal year November 30) with a rise of 11%, up to 5.3 billion euros.
Gap, on the other hand, closed again with drops in its results with a downfall in sales of 4% during the second quarter, worse than expected by analysts, with 3.7 billion dollars. Fast Retailing, that closes its fiscal year august 31, ended its second quarter with drop in sales of 7.3%, up to 5.8 billion dollars.
Inditex is also amongst UBS favorites, "Inditex is one of the best positioned in the market, and at the same time it continues to sell thought its stores and its online channel".
With all, the Spanish giant is not excluded from the currency effect that could lead its margins to stuck in the second quarter, according to JPMorgan. The instability in the government of the country, its local market, may not affect the group,according to Aberdeen. "The company is prepared to face any possible political scenario", states Ben Ritchie, sales director of the group in Europe.