Safilo cuts its losses by 71.4% and predicts an intricate year due to the coronavirus
The Italian eyewear retailer has warned of a decline in the group's sales in March, coinciding with the closure of stores and quarantine in Italy due to the coronavirus crisis.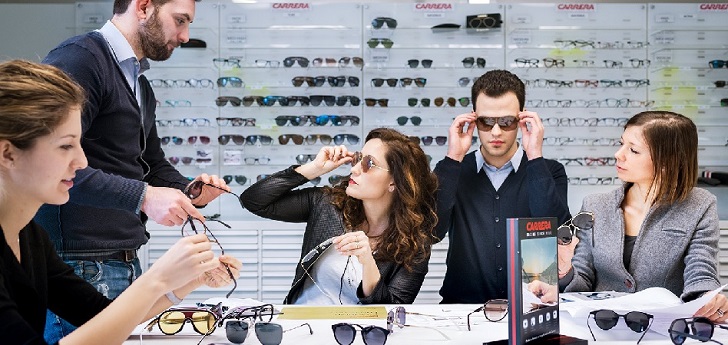 Safilo worries about the coronavirus. The Italian eyewear retailer has warned of a decline in the group's sales from what can be observed so far in March. Safilo CEO Angelo Trocchia has admitted that the company started the year "ahead of our expectations, but since the beginning of March, sell-out has begun to show signs of decelerating in Europe, especially in Italy and even the U.S" After the confinement of Italy on March 9, the company's factory located in Padua is operating at 85% capacity.
This announcement coincided with the presentation of the company's 2019 results. In this period, sales have increased by 3.1%, to 939 million euros (1.1 billion dollars), and the net result has remained negative, although it has reduced losses by 71.4%, to 4 million euros (4.5 million dollars).
Based in Italy, the European region most affected by Covid-19, the group's chief executive has stated that After a very promising start to the new year for all our own core brands and key licenses, we are now facing the challenges posed by the outbreak and spread of coronavirus, the impacts of which we are closely monitoring while planning for mitigation actions." In uncertain circumstances, the group's estimates "do not include any potential impact derived from the coronavirus."
Safilo has reached sales of 939 million euros (billion dollars) in 2019 and has recorded a negative net result of 4 million euros (4.5 million dollars)
However, Trocchia has recognized that this "extraordinary in nature and extent, has direct and indirect repercussions on economic activities and has created a context of general uncertainty, whose evolution and related effects are not currently foreseeable". "If the phenomenon lasts until after April, the situation will worsen," added the executive.
Regarding the 2019 results, the CEO of Safilo has spoken of a "positive contribution of all our core own brands Carrera, Polaroid and Smith, together posting a sales growth of 5.7%". In 2019 Safilo also renewed the eyewear license of Tommy Hilfiger, Kate Spade, Hugo Boss, and Marc Jacobs.
By region, in this period Europe has remained the main market for Safilo, although it has been the only one to have decreased its sales compared to last year. On the European continent, sales recorded a slight fall of 0.8%, to 448 million euros (506 million dollars). Asia Pacific was the region where Safilo most increased its revenue in 2019, by 23.8%, to 78 million euros (88.2 million dollars). Finally, in North America sales also grew by 4.7%, to 334 million euros (377.7 million dollars).