Vietnam, in the spotlight: the gap between minimum wage and standard of living widens
In three years, the Vietnamese Government approved three wage rises: 7.3% in 2017, 6.5% in 2018 and 5.3% in 2019, according to a report prepared by the Fair Labor Association.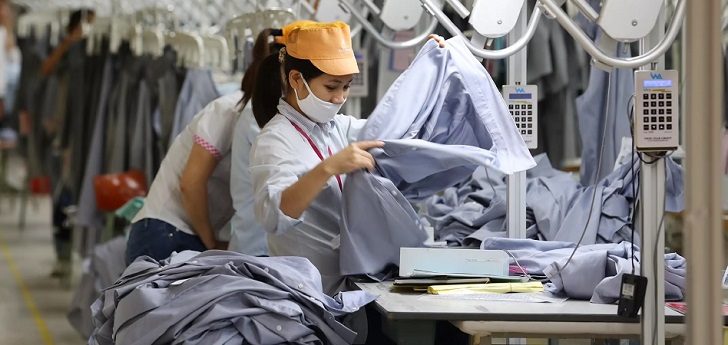 Vietnam is once again in the spotlight. The government of the country has approved three rises in the minimum wage over the last three years. However, the standard of living has also increased quickly enough so that the gap between the two elements widens. Although in 2019 the minimum wage has risen by 5.3%, it is still below the considered as decent according to the Toward fair compensation in Vietnam report: insights on reaching a living wage, from the Fair Labor Association.
Through the National Wage Council, the Government of the country has approved in the last three years three wage rises: 7.3% in 2017, 6.5% in 2018 and 5.3% in 2019. All the rises have even been above the country's inflation rate, which was 3.5% in 2017 and 3.7% in 2018.
On average, the Vietnamese employees earn 4.6 million VND per month, the equivalent of 200 per month, while the living wage benchmark estimated by the Global Living Wage Coalition (Glwc) stands at 5.7 million VND (248 dollars). To reach the level established by Glwc, the minimum wage in the country should be increased by 25%.
Vietnam, the third exporter of clothing in the world, has 6,000 garment factories that employ 2.4 million people
The authors of the report note that the rises approved by the Government are not enough for workers to cover their basic needs and denounce that this gap has to be compensated by additional incentives or overtime. The incentives can raise the minimum wage by 10% and overtime by 15%.
The Asian country is the third largest exporter of clothing in the world behind China and Bangladesh. Its external sales represent 16% of the overall foreign trade of the Vietnamese economy. The sector totals around 6,000 garment manufacturers, employing close to 2.5 million workers. If the auxiliary industries are added, the Vietnamese retail adds 1.5 million more jobs.
Bangladesh continues to be the Asian country with the lowest labor costs, although the pressure of the last few years has forced it to rise twice in less than half a year. Last September, the Vietnamese Government approved a 51% rise of the minimum wage, which came into effect on December and placed it at 8,000 taka (95 dollars). However, due to a wave of protests that stopped the production for several days, the Government agreed to implement a new rise, even though it has not entered into force yet.